Faiba ads creator Michael Muthiga earns top honours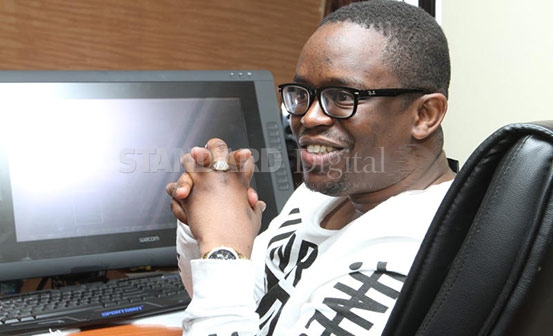 When Michael Muthiga created the first Faiba animation, he worked hard on it and did not think much of it afterwards.
"I thought it would just run on television and that would be it," he says.
He was stunned by the reception.
The extremely popular advert featuring the skinny character clad in leopard skin dancing saying, "Eish. Mboss. Is that your wife calling?" gave way to Mbugua, the businessman who is a miser; Jalis, the Olympics champion who describes himself as a racist (he means runner) and other animated characters such as Mazgwembe and Wafula.
Muthiga's illustrious career in animation and advertisement had been cemented. Forbes magazine recognised him as one of 30 Most Promising Young Entrepreneurs In Africa 2014. He was 27 at the time and his company, Fatboy Animations had only existed for three years.
Now at 29, Forbes magazine has listed him again as one of Africa's Top 30 under 30 Entrepreneurs for 2016.
To be nominated under this category this year, the person had to have been an entrepreneur under the age of 30, have a legitimate registered business in the continent that is two years or older, must have risked his or her own money and have made a social impact.
Inherited businesses did not count.
Being listed twice in Forbes magazine is a worthy accomplishment but is by no means an accident.
With his staff of nine, he works on an average seven projects per month and charges between Sh1 million and Sh 1.4 million for a 60-second advert.
Muthiga still does a lot of the work himself and is more creative at night.
"I wake up at 8 or 9am, animate, animate, animate until 2 or 3 in the morning and then I go to sleep. Every single day," he says.
Sometimes, he works for close to 19 hours a day and says it is because he is passionate about his work, and it is not about the money.
"I just want to see something good on TV and if I do something good this time, I want to see something better next time," he says.
He also tends to shy away from clients who do not let him have creative control.
He turns down projects that he feels are boring and do not give him enough leeway to improve upon.
"What happens when I take such a job is that it takes me long to finish because I am not enjoying what I am doing," he says.
He has a special place in his heart for Faiba, because they let him do whatever he wants, which does not stifle his creativity.
Bright Future
His passion for animation came to life in high school, where art was his favourite subject.
He loved drawing and cartoons. In fact, "loved" is an understatement, if you ask his art teacher at Alliance High School, Musa Francis Okwaro.
"That young man was mad about cartoons," Okwaro muses.
Being the place where his talent was nurtured, the school means a lot to him and his pride is evident.
In fact, the very chubby son of one of his most popular characters, Mbugua, is usually dressed in his high school uniform.
"Call it The Alliance High School," he says as we burst into laughter.
He then explains how Mr Okwaro, made him realise he could do it as a career and that the future in animations was bright.
At that time, lucrative careers were deemed to be in medicine, engineering and law, but Okwaro introduced him to animation and digital art and encouraged him to pursue it as a career.
"You will thank me later if you follow this route," his teacher told him.
However, after high school, he bowed to societal pressure and studied Civil Engineering in Malaysia for three years and even worked as a Civil Engineer in 2008, for six months.
He enjoyed the designing aspect of the job and still does it sometimes, but his passion for animation refused to die, so he quit.
He then joined Tinga Tinga Tales as an animator and worked for one and a half years. He saved 90 per cent of his salary to buy equipment and when his contract ended, he founded Fatboy Animations.
"Fatboy was the nickname they gave me at Tinga Tinga. I wasn't even fat," he says in mock sadness, shaking his head. To him, it is a name that stands out and is very memorable.
He has taught himself most aspects of animation through online classes and YouTube tutorials. When he started Fatboy, he uploaded one of his personal projects which was simply a character dancing. Someone from Telkom Orange saw it and contacted him, and he got his big break. "You never know who is watching," he says.
Animated Feature Films
Despite the success of his animations, some clients are still not convinced. "Even now there are people who still want us to do a demo to prove that we are able," he says.
"We usually have so many jobs that we have to finish, thus when a client insists on a demo first, they have to pay a quarter of the price of the whole project."
He looks forward to Kenya being able to produce its own fully fledged animated feature films. He says that time will come soon, but we are not there yet.
"We can do it if we get the right funding, but it also has to sell," he says. "Kenyans do not have the purchasing power right now.
"When you produce a movie here, the next day there will be bootleg copies being sold on the street. Nobody will go to the cinema to watch it."
A TV series would work better, he says, and that is already in the pipeline. The biggest project he is currently working on is an animated series with an American company, Digital Media Rights.
When the series is done, they will then give it to the company, which has a big distribution network and will sell licences to air it, in North America and Canada and also to local channels.
As his art teacher had predicted, animation was indeed the future.
His net worth is "very good," he says but does not reveal how much it is.
About his teacher's other prediction, that Muthiga would eventually call him back, that happened too and when he did, the teacher just said: "I told you."