First trip to the city of Nairobi was memorable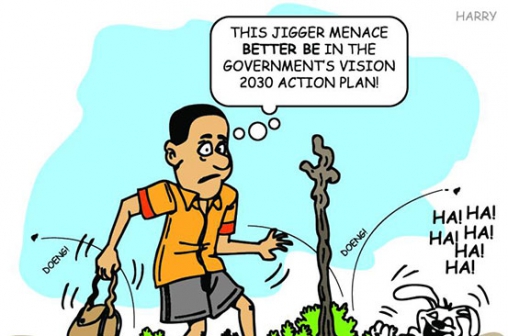 After publication of my article last week, my younger children were puzzled about the standard of education facilities when I was in primary school.
They could not imagine classrooms with mud-and-wattle walls and dirt floors that needed to be watered every week during the dry season to keep away jiggers.
They were particularly keen to know what jiggers looked like.
To add to all these exotic phenomena, I informed them that in those days, even the very few children who owned shoes were not allowed to wear them to school.
The logic, as I understand it today, was that besides creating a sense of inequality in a situation where a majority of parents could not afford shoes for their children, they would be a distraction and make learning difficult. I have also considered the difficulty that would have arisen if shoes were to be made a mandatory part of the school uniform as is the case in many schools today.
As I mentioned last week, jigger infestation in parts of the Mt Kenya region was at epidemic levels in most of the 1960s and part of the 1970s.
In the primary schools I attended, almost half of the class would be suffering from various stages of infestation, with one or two of the pupils almost crippled by the pests. For these poor souls, wearing shoes was certainly out of the question; walking with unimpeded feet was painful enough.
In those days even the teachers themselves were just learning to wear long trousers to work. I am told that during colonial times, only a few years earlier, male teachers — there were virtually no female teachers — were required to be in shorts while at work and risked getting caned in public if the White inspector came visiting and found their teaching schemes not in order.
I owned my first pair of shoes at the tender age of eight in 1966, the year I first visited Nairobi, the first major town I saw.
That year, our local coffee marketing society was taking a select group of farmers to what was then known as the Nairobi Agricultural Show and for some reason, my cousin and I were included in the trip although we were mere children.
We had to be properly kitted out for such an important tour and the first port of call was the shop owned by Joses, one of the two tailors at Igoji market, the other one being Karabhai, a grizzly old Asian who had a stoop and looked malnourished.
Joses's task was to make American khaki trousers and shirts for my cousin and I.
The next stop, and in our young minds the most important, was a shop owned by Karani, Igoji's sole shoemaker in those days.
I do not know what was more exciting, the impending trip to Nairobi or the prospect of owning a pair of shoes. Measurements for the shoes were taken by each of us stepping on a piece of cardboard, and then Karani would make a drawing of each foot.
Such was the importance we placed on the shoes that for the duration of the shoe-making, we would look in at the shop in the morning before going to school and in the afternoon while going home to check on progress.
It finally took a cane each from my old man to discourage these visits which had the effect of taking our minds off school and just about everything else.
After what seemed to us an eternity but was probably just a couple of weeks, the shoes and clothes were ready for collection.
Of course, we put them on immediately we got home, and went to bed with them shoes and all. Never mind that the shoes were crude leather affairs with huge soles and must have weighed a kilo each.
The journey to Nairobi was made on the back of a lorry owned by the coffee marketing society and might have been quite uncomfortable were we, including the grown-ups, not so excited about going to the show and seeing 'Nyairobi'.