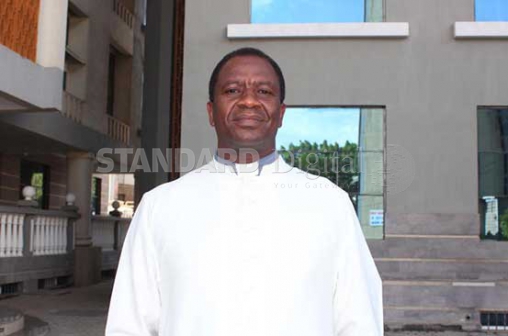 A huge Christmas tree, dozens of twinkling lights, and a cacophony of Christmas carols blaring through stereos welcome visitors into one of the many shopping malls in Nairobi's Central Business District.
A pair of scrawny looking Santa Clauses, donning red fluffy coats that appear to be two sizes too big, clown around at the entrance. They spot long, snowy beards, black bulky belts above their waistlines and black shiny boots.
The clanging of the bells in their hands is fit to make anyone within a few inches of them tone deaf, but no one seems to mind.
"Merry Christmas, Merry Christmas! The Santas call out to shoppers, as a little girl suddenly breaks free from her mother's grasp and dashes towards the "funny looking men."
For her effort, she is rewarded with a handful of sweets and she happily skips away.
Read More
Most shops within this mall have lowered their prices, and judging by the queues, its clear that those selling mobile phones are the shoppers' favourite.
Most of the shops' display windows are already decorated with images of mistletoe, bells and Merry Christmas messages.
Nothing, it appears, will dampen the spirit of Christmas. Not even the threat of terrorism, that has increasingly become a reality for many people the world over.
Although terrorist attacks in the past have marred the country's sense of security and made the public more cautious, the spirit and cheer that often accompanies the festive period appears to have been left intact.
Traditional holiday destinations like the Coast continue to record bookings.
At the Mombasa bus terminus in Nairobi, the queues are getting longer, and, should the trend continue getting a seat on a Mombasa-bound bus will not be possible by Christmas Eve as people clamour to get to their families in the country's favourite holiday destination.
"While it is true that terrorism has changed how we go about our daily lives, we cannot give in to fear," says Mike Macharia, the Chief Executive Officer of Kenya Association of Hotelkeepers and Caterers.
"We do know that the primary target of the terror campaigns are public places, but this should not stop people from going out and enjoying themselves over this festive season."
It certainly has not stopped 30-year old William Sila.
While shopping malls are crowded, creating easy targets, he continues to shop and visit holiday destinations as he used to.
The only difference is that he has become more cautious and "more alert about all the people around me wherever I am."
A quick survey of Kenyans along the streets reveals a prevailing feeling that people should conduct their businesses as usual and that terrorists should not succeed in instilling fear.
Samuel Kimani, 29, who sells clothes along Nairobi's Monrovia Street says that insecurity is everywhere. Kenyans know that and as a result, business has not been affected.
His view is supported by KAHC's Mike Macharia. He says in European capitals, restaurants are the targets, but locally, people are attacked even in their homes.
There is a feeling that even though terror is now a global challenge, travel advisories are issued by First World countries when countries in the developing world are affected, and Kenya has borne the brunt several times.
While this may have affected the arrival of foreign tourists, Joshua Njeru, a senior travel consultant at the Wild African Experience says that business is booming, more so during the festive season.
"After the Mpeketoni attacks, we had a lot of cancellations, especially at the Coast, because of the travel advisories but bush destinations like the Maasai Mara were not affected," he says, and adds that local travel was not affected at all and "it is Kenyans who kept us in business."
Njeru, who is a resident of South Coast, says the number of bookings are increasing as Christmas Day draws near, a pointer that the public have refused to bow to terrorism fears.
This does not however mean Kenyans are downplaying the situation. Just this past Wednesday, suspected Al-Shabaab terrorists attacked motorists at Milihoi, which is approximately 10 kilometers from Mpeketoni.
They killed three people while two others were seriously injured.
Security has been beefed up in the area, with patrols along the Lamu-Mombasa Road, two major checkpoints where travelers are to be inspected and buses to the region are escorted by uniformed forces.
"The threat of terrorism is real and has changed the way the public views security, even during the festive season," says Charles Owino, the Kenya Police Service spokesperson.
People are now more conscious of their safety compared to a few years ago, he says, and it is no longer strange to get requests for police protection from those who are hosting friends or relatives
Even for churches, things appear to have changed, but not enough to dampen the Christmas cheer of the faithful.
While Kenyans used to see metal detectors only in movies, today the gadgets are employed at all entrances of public places, incuding what was once thought to be the safest place, the church. That would have been unthinkable a decade ago, but is now commonplace since the faithful get screened and they are getting used to it.
"We haven't changed our liturgy or order of services and we still hold the Christmas vigil mass," says Father Peter Kamomoe, the administrator at the Holy Family Basilica in Nairobi. "The only change is the enhanced security within the church compound."
He says their security budget increased slightly because they employed more guards and bought more metal detectors. "Of course security agencies are supposed to be on full alert, but people are actually more relaxed around this time," he says. "This is a joyous moment for Christians and they will continue celebrating their faith."
With hotel bookings imcreasing, church services vibrant, and people travelling upcountry for celebrations, clearly, Kenyans are still of good cheer, and terror attacks or not, they are unbowed.