Undiplomatic fashion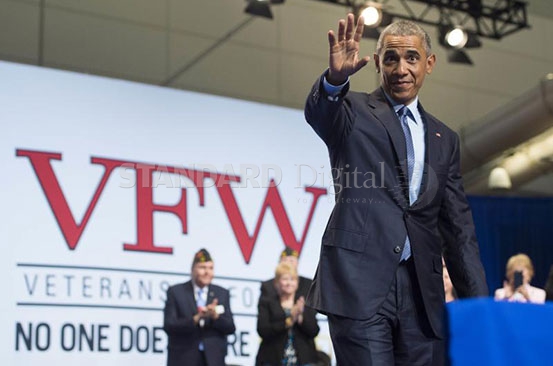 With the engines of Air Force One warming up in readiness for Obama's lift off to Ethiopia, the curtain is falling on the circus that has been in town for the past few days.
And the cortege of high-rolling business magnates, risk-gulping investors and ambassadorial politicos did not disappoint in their predictable, subdued attires, at least as far as the men's look was concerned.
It is like there is a square toes designer in some backroom with a strict briefing to fashion creations, whose only theme is 'several shades of grey.'
But that seems to be the power look of male 'imagineering' in leadership, only decked by the occasional pocket square and the obligatory tie.
The few occasions world leaders have attempted to break the tradition have not been pretty.
Such is characteristic of Asia-Pacific Economic Cooperation summits, with the Beijing one in November last year turning out to be a hilarious show that cast the leaders as a troupe of a sci-fi movie ?ala Star Trek, if not a parastatal choir in Kenya!
The men sported outfits with jacquard brocade and decorative patterns modelled on the famous Zhongshan suit. But at least it did guarantee local designers led by Wu Qingqing some good work, which is more than we can say for our fashion industry during regional meetings.
As such, it is the sideshows that become the main act.
Not surprisingly, when the Italian Prime Minister Matteo Renzi moseyed into State House, some of us took note that it is Philip Mwaniki, an entertainment journalist and not a fashion writer per se, who first tweeted about the sharp contrast between the Italian's well-tailored suit and the unfettered cut of our president's ill-fitting garb.
Mr Renzi's faux pas of entering our Head of State's abode in a bulky flak-jacket is the stuff of fashion diplomacy fails. Perhaps it is the body armour that made the suit to fit so snugly and gave him that angular profile.
But he is not the first leader to goof, nor will he be the last, in any case, despite having relinquished the instruments of power to his deputy in October last year, our president was caught on camera in baggy jeans with a yawning zipper at the airport on his way to The Hague.
Fashion diplomacy and etiquette is a minefield that has recurrently more than splatted egg on the face of leaders.
Russia's just-divorced president Vladmir Putin knows this too well. His chivalrous gesture to drape his coat over China's First Lady Peng Liyuan during the APEC meeting was rebuffed with a cool rejection that could have matched the nippy clime against which he wanted to shield President Xi Jinping's wife from in the first place.
But for a man who a year earlier at the G8 summit in Northern Ireland had been ribbed by British Prime Minister David Cameron for wanting the "the dress-code (for the summit) to be bare-chested on horseback," that was an insignificant ruffle in light of things he has had to deal with.
Luckily, Cameron's snide remarks did not elicit a contemptuous avalanche as those of Israeli PM Benjamin Netanyahu when he stated in a BBC interview in 2013 that "I think if the Iranian people had freedom, they would wear jeans, listen to Western music and have free elections."
May be it is the men in leadership who just cannot seem to get enough room in their mouths to stuff their feet in.
The powers behind these men, like Michelle Obama, have been very successful in deploying fashion in the sensitive field of diplomacy.
During a State visit to Japan, she wore a Japanese designer dress to the state dinner hosted by Prime Minister Shinzo Abe and wife Akie. Her pretty party dress was hailed as a symbol that "expressed warmth and humanity of the American people."
She was similarly acclaimed for chipping at India's colour prejudice with her look when she visited the sub-continent early this year, just days after she shocked Saudi Arabia's royalty by showing up at King Abdullah's funeral sans headscarf.
But all these are executed by savvy stylists.
Which makes you wonder which Kenyan designer dresses our First Lady Margaret Kenyatta — and if at all there was a message she was trying to send by shunning African-themed designs, unlike the other First Ladies, during the just concluded Forum of African First Ladies against Breast, Cervical and Prostate Cancer Conference when she showed preference for formal suits.
Twitter: @omondipaul