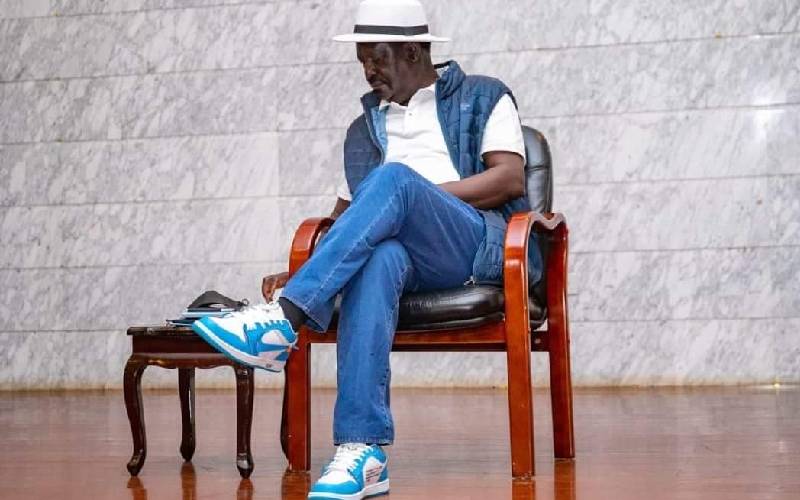 In the September 2020 issue of Vogue, writer Maya Singer in an article dubbed Power Dressing: Charting the Influence of Politics elaborately championed why fashion is a veritable marketing thread – its capacity to be a valuable political statement and why it is a conjuring aesthetic of every politician's identity.
In Kenya, the discussion around the subject took centrestage in October 2021 after Azimio la Umoja's presumptive presidential candidate, Raila Odinga subtly pocketed DP William Ruto's youth thunder by donning iconic Nike Air Jordan sneakers, navy blue jeans with light fade, half jacket and an athletic fit polo shirt.
The effect was, as expected, incisive – like his beloved signature Lucky Dube tune, Nobody Can Stop Reggae. The ODM leader's genius shone brighter later that month when he roped in 17-year-old Trio Mio for Sipangwingwi, which acted as a precursor to his February 2022 bomber jacket flooring move to make a rendition of Emmanuel Masindi's, Leo ni Leo.
The ODM leader effectively became a trending topic among Generation Z, a large campaign tranche that could prove critical during the 2022 General Election where Odinga is set to battle it out with Ruto - whose 'hustler narrative' is forcing a rethink on messaging around the youth.
Of note, Generation Z understands appearances may be deceptive, but the two seasoned archnemeses, Raila and Ruto, have time and again proven subconscious biases play a role in election campaigns. Both are thus not leaving anything to chance.
See, suits in Kenya's rapturous political landscape is the uniform for the powerful. To the youth and the have-nots, who for close to two years have been bogged by a haemorrhaging Covid-19 economy, rising joblessness and insecurity, the official dress cachet is diminishing.
Generation Z has no peers in suits, save for the diminishing blue-collar workers, self-made 'wash wash' dwarfs, 'tender-preneurs' and miracle peddlers who unashamedly twerk to the beat of KRA's call for accountability.
It was not always this way; there was a time when suits had meaning. In all accounts, no one in Kenya's history embodied the sartorial elegance of high office than former President Daniel Arap Moi and Kenya's first Attorney General, Sir Charles Njonjo. Moi, the second and longest-serving president of Kenya, was the art of Savile Row.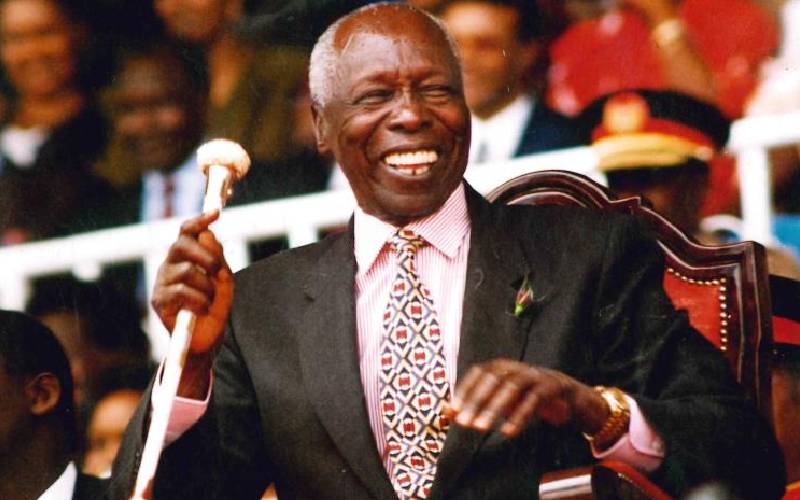 His wardrobe was utterly timeless and evoked a sense of perfectionism. A parade of sophistication and authority, but not in "your face" as do today's wannabe Instagram fashionistas. It was classically toned-down, liberally cut and expensively matched in solid colours. His signature additions were intentionally styled ties and a fresh rose boutonnière that always adorned the lapel.
Uhuru Kenyatta, Kenya's fourth President, has, however, broken out of the restrictive style codes and is perhaps the most expressive and laid-back of all Kenya's heads of state when it comes to fashion.
President Uhuru, like his father – the founder of the nation, Mzee Jomo Kenyatta, whose affinity for waist length and front buckle leather jackets was legendary - believed to be a personal protest against the stiff-upper-lip style of then-British high society, loves colourful loose-fitting button-up shirts.
Though the silk shirts are part of Uhuru's second-term initiative to encourage 'buy Kenya build Kenya', the departure from his first term's dark suits and red tie ensemble, speaks to his legend that he is, arguably, one of the most accessible and easy-going of presidents in Kenya's modern era.
He has, however, kept Moi's bespoke watch tradition going. While the late President loved gold Rolexes, Uhuru has been spotted in a Patek Philippe Aquanaut and an Audemars Piguet.
The most intentional of all was, arguably, Jaramogi Oginga Odinga. The prominent figure in Kenya's struggle for independence and first vice president loved ceremonial hats, especially beaded caps.
They epitomised power and traditional authority. During the early stages of his celebrated political career, Jaramogi donned a similar beaded cap like that of Jomo, with whom he later fell out, and threw in a fly-whisk and walking stick to compliment his elder statesman look.
As they grew apart, and the fly-whisk and beaded cap became synonymous with Jomo, Jaramogi - the founder of Forum for the Restoration of Democracy (FORD) - waltzed out of the president's shadow, picked up a flat cap and adopted three-piece suits.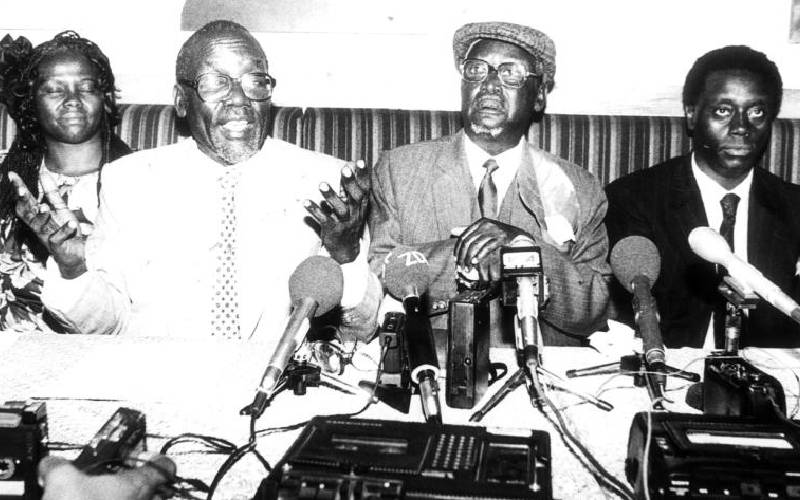 A stately and refined image that to today's generation is almost a mural of the 1920s-set BBC drama, Peaky Blinders.
The hat suited his rising stature and stuck with him and the Jaramogi family that it became an icon of his larger than life persona. It was thus no surprise his son, Odinga adopted it when he took over FORD after his death in 1994.
Raila's senior brother Oburu and sister Ruth keep the homage going and are often spotted wearing flat caps on the campaign trail in a befitting ode to the revered 'Father of Kenya's opposition politics'.
For Raila and Ruto, outfits are less about brands than style and symbolism.
Ruto, in the 2022 campaign trail, has opted for casual coloured blazers and khaki pants; a deliberate switch to add a dose of youth, vibrancy and adventure to his style, away from his 2013 signature black cap that was simply branded with the Kenyan flag.
Ruto in the past, perhaps with the wind of youth in his sails, mostly experimented with different looks when making political appearances, meeting with culture-specific community leaders or religious sects and denominations.
He is, perhaps, one of the most photographed Kenyan politicians of his generation using fashion to make a statement; he has been captured resplendent in Muslim garb, garlanded in a Sikh turban, proud in Legio Maria's single-colour robes, fully immersed in Akorino's sea of white and looking dapper in African prints.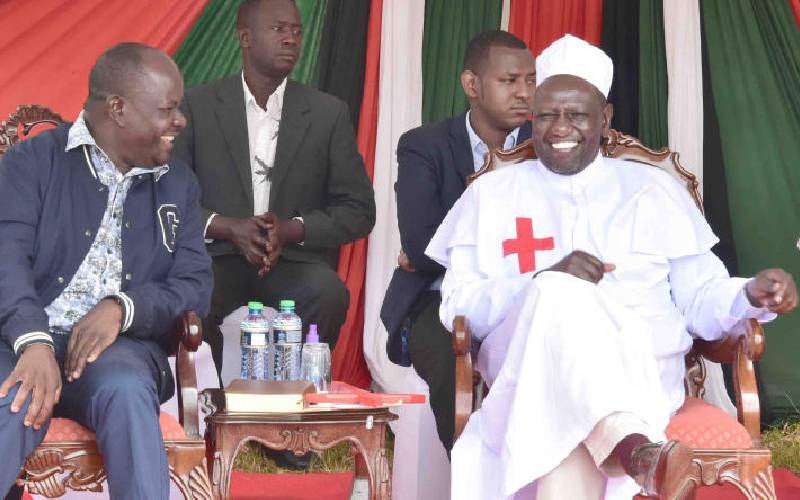 This pulsating dance to look, sound and fit in with the under 35 crowd is not restricted to the two 76 and 54-year olds.
At the Coast, Ferrari-cruising Mombasa Governor Hassan Joho often rocks Versace's opulent prints. For the self-styled 'Sultan', the aesthetic influence feels expensive in a way that only luxury identifiers like him and the former Governor of Nairobi Mike Sonko can.
The two mavericks share in their modest backgrounds and gift of the garb, but are, even more, joined at the hip in their love of glitzy lifestyle, flashy clothes and expensive jewellery.
The number of votes each pulled at the ballot tell a story that the aspirational look, somewhat, matter.