'Filthy rich' Nigerian socialite charged in US over cyber fraud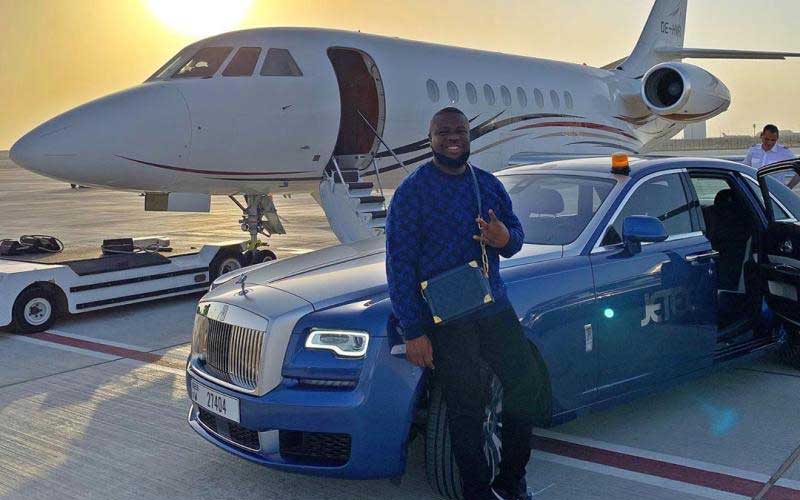 A Nigerian Instagram celebrity with 2.4 million followers and known for his flamboyant lifestyle could face a statutory sentence for money laundering and cyber crime.
Ramon Abbas, alias Hushpuppi, 37, has appeared in court in the US, accused of conspiring to launder millions of dollars through cyber crime cartels.
If found guilty, Hushpuppi, who was known to flaunt his lavish lifestyle showcasing his Rolls Royce and Ferrari cars, golden watches and designer clothes, could be sentenced to up to 20 years in jail.
The news of his arrest by the FBI in Dubai before he was flown to Chicago, US, where he appeared in a federal court on Friday, took the regional showbiz industry by surprise.
Romantic escapades
Hushpuppi had been associated with a number of Kenyan socialites, including one he was rumoured to have dated last year.
The Kenyan socialite, who is said to have had romantic escapades with Hushpuppi in Dubai, has however distanced herself from him, saying she no longer wants to hear anything to do with Nigerian "boys".
Another Kenyan socialite told The Standard that she was not shocked that Hushpuppi was arrested as "he had sold himself out with all those extravagant displays of quick riches".
"Everyone has been talking about the story of Yahoo Boys, these young Nigerian men who use the internet to relieve unsuspecting clients of their money in romance, gold and other business scams. Having been alleged as such on several occasions, it was evident that law enforcers would catch up with him," the beautician and entrepreneur said.
Hushpuppi's social media accounts presented him as a filthy rich real estate developer, with choppers and super cars.
He was nabbed alongside 11 others through the help of Dubai Police.
During the raid, the police seized nearly Sh4.3 billion, 13 luxury cars worth Sh720 million and phone and computer data containing more than 100,000 alleged fraud files and the addresses of nearly two million possible victims.
The arrest was triggered by report filed by a complainant who said that Hushpuppi and an unnamed person conspired to launder a Sh1.6 billion stash as well as an attempt to steal Sh13.1 billion from an unnamed English Premier League football club.
Opulent lifestyle
Prosecutors allege that Hushpuppi is a mastermind of a global network that uses computer intrusions, business email compromise (BEC) schemes and money-laundering capers to steal hundreds of millions of dollars.
According to a US federal court affidavit, one of the alleged victims was the client of a New York-based law firm that lost nearly a million dollars in 2019.
"This case targets a key player in a large, transnational conspiracy who was living an opulent lifestyle in another country while allegedly providing safe havens for stolen money around the world. As this case demonstrates, my office will continue to hold such criminals accountable, no matter where they live," US Attorney Nick Hanna said in a statement.