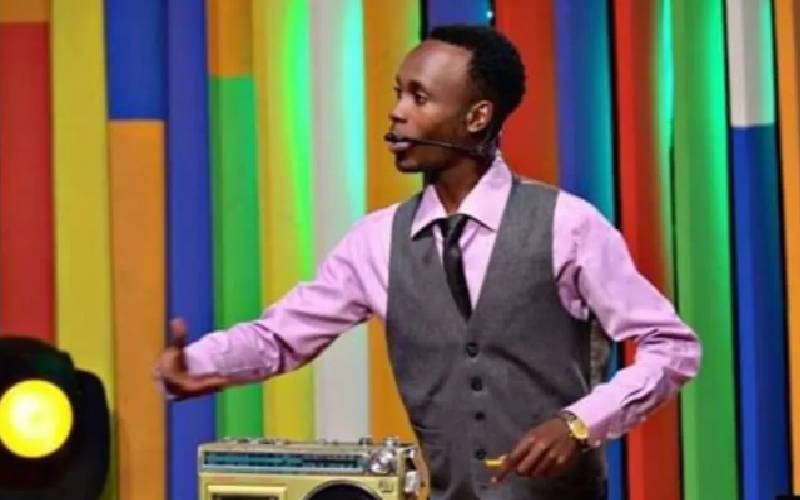 Joseph Musyoki Kivindu aka Kasee is dead. The comedian, who devoted his life to making people laugh, died a sad man on Sunday evening after battling depression.
News of his death opened the jar into his untold problems that saw him drop from mainstream limelight, his big talent dimming from the thousands of Kenyans he used to entertain on TV.
The funny man was reduced to a backstreet one-man show act as he opted to local Kinoo bars where he would land gigs for survival for his daily bread.
And even at this sorry state, he hardly shared his sorrows but put up a brave face as he pained inside, pain that got him entering into depression – then alcoholism – the same that is said to have claimed his life on the tragic dusk.
Initial reports have it that the former Churchill Live comedian passed on after consuming a contaminated drink after falling back into alcohol abuse in an attempted showbiz comeback about seven months since his last public appearance.
According to a press release issued by Comedians in Kenya Society Chairman Ken Waudo, Kasee's body was found lying on the roadside in Nginduri, Kinoo, a day after he had gone drinking with friends.
"This is really a sad way to start the week. It is a bitter pill to swallow but then we cannot question God's plans… My deepest condolences to family and friends of Kasee. Safiri salama," Laugh Industry director and top comedian Daniel Ndambuki alias Churchill said.
The star had been shining bright for the rib-cracker who entertained thousands with his satirical jokes as he cut a niche for himself through analogical scripts. As a guest comedian at Churchill Live, he became popular, making his main mainstream breakthrough in 2018 as he featured in main shows.
However, at a time when he was expected to get to the top, things got twisted. He stopped appearing on the show and disappeared from the public only to make his return a year later through a comedy show that aired on KBC.
The show did not last long and although Kasee got a lifeline to rejoin Churchill Live, he was no longer the consistent upbeat star he used to be.
"Kasee was under pressure to keep his shine on even as he fell off the limelight. He reached out to me and opened up about his tribulations and how all this had thrown him into depression and alcoholism. He, however, said he was ready to fix his issues and refocus," said Vincent Mutua (Chipukeezy), who also sits at National Authority for Campaign against Alcohol and Drug Abuse (Nacada) board.
"Many artistes have hit rock bottom," noted Chipukeezy, who said joblessness among comedians has pushed many to depression. Although no comments were available from the family at the time of going to press, sources told The Standard that Kasee had recently reunited with his wife, and is part of family members planning his burial.