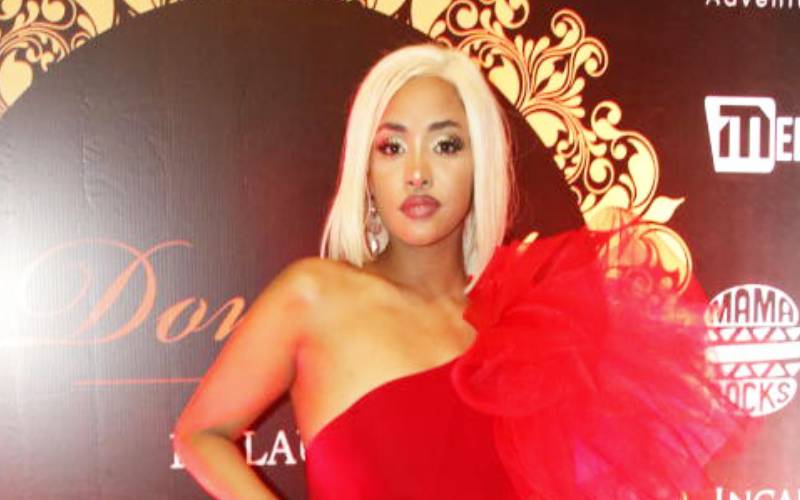 On a cold Friday evening of January 31, hundreds of music fans headed to the Sarit Centre, Nairobi, to listen to Tanasha Donna's (pictured) debut album.
Tanasha, a radio presenter and model turned musician was releasing Donna Tella.
Around the same time, the love of her life, Tanzanian bongo star Diamond Platnumz, was on his way to the airport.
He was flying back to Dar Es Salaam, apparently to sort out some emergency back at home. On a night when the love of his life was making her biggest move in showbiz, Diamond decided that something else was more important.
Social media buzzed, with many predicting the end of the two lovebirds' relationship.
Things cooled down, but many did not fail to notice Tanasha's body language when she appeared next to Diamond, suckling her baby as the man was being interviewed.
The Wasafi Classic Baby record label supremo was in the country to headline Koroga Festival, Naivasha Love Edition at Hell's Gate on Valentine's weekend.
Days later, the two released Gere, which already has more than five million views on YouTube in just a fortnight. 'Gere' means jealousy, so it is safe to say they were assuring their haters their union was still intact.
The speculation cooled down, only for it to resurface last weekend when Tanasha posted cryptic messages on her Instagram stories. In the posts, she talks about narcissists and their negative influence on others, warning women to distinguish between love and narcissist behaviour.
"Ladies always remember, this is not love. Sometimes it takes experience and realisation to learn. Pray hard every day, 5 times a day if possible, because dealing with a narcissist is like dealing with the devil himself," she wrote.
"A narcissist is disrespectful, insensitive, controlling and disregards your feelings. Narcissists like to provoke negative emotions in others," she added.
Tanasha flew back to Kenya, posting 'Home, where I belong.'
That is when the rumours started, with some alleging Diamond's kin did not want the sassy 24-year-old to leave with the child she got with the Baba Lao singer.
Others claimed that Tanasha had faced emotional and physical abuse from Diamond's relatives. What many seem not to fathom is that the two are not married!
In fact, it was Diamond's mother who recently urged his son to settle with the former radio queen, who quit NRG radio in Nairobi for Dar.
Interestingly, in Gere, Tanasha sings: 'Don't you ever leave me solo, or disappoint me...' In the same song, Diamond reassures her that his mother has told him to settle and change his ways.
That her name is being brought up in the break-up is no surprise. Diamond's mother's influence has always been apparent. She has had a huge influence on her son's choices. She is his biggest fan, and quite proud of how her son has turned out.
Tanasha has since done a clean-up job on her Instagram page, doing away with photos of Diamond and his kin.
Everyone who has followed Diamond's romantic life knows its complicated. In the past few years, Diamond has dated across Tanzania, Uganda and Kenya, fathering four children with three women. He also dated former beauty queen, Wema Sepetu.
His relationship with Zari Hassan, the Ugandan socialite and businesswoman with whom he has two children, took an almost similar turn. There were rumours of cheating, which he publicly denied. He later admitted having a relationship with video girl, Hamisa Mobetto, who was raising their child.
When Zari left, preferring the suburbs of South Africa, Hamisa dug in, claiming child support from the award-winning singer.
Hamisa had appeared in Diamond and Rayvanny's music video, Salome released in late 2016. In the video, she features as Diamond's love interest, her beautiful face captivating in the colourful studio shoot.
It was after Zari walked out that Diamond, ever the businessman, released Sikomi, whose lyrics sounded like a confession about his feelings for her.
Ironically, in his music videos, the musician follows a familiar pattern. Diamond featured Zari as his love interest in Iyena, a love song in a wedding set up which he did with Rayvanny. In fact, he has featured a number of his past loves in his videos.
All through the better part of Tuesday, Tanasha was trending on Twitter, with Netizens taking turns to poke fun at her, Diamond and their relationship.
Tanasha had promised to speak about her relationship with Diamond. But after Sunday's Instagram posts, she suddenly went quiet. Meanwhile Diamond has invited the press at Serena Hotel today to address a yet-to-be-specified issue.