Plight of children, social media effects feature at drama fete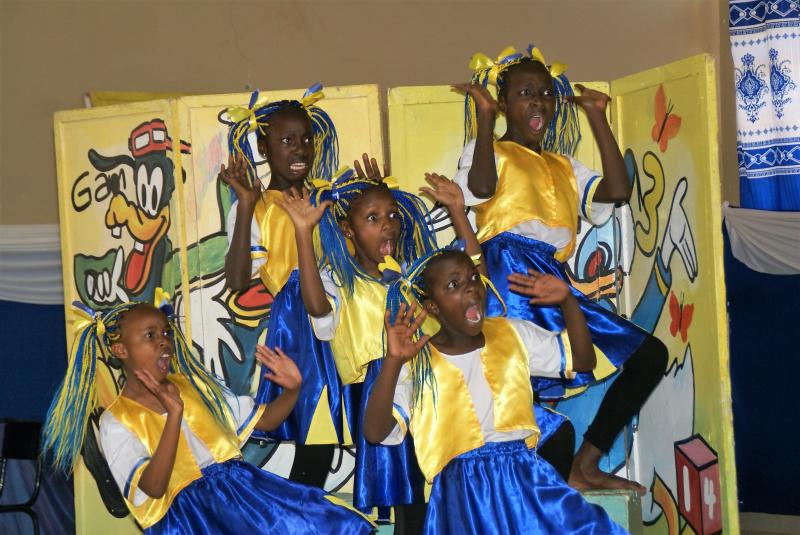 The 60th edition of the annual Kenya Schools and Colleges Drama and Film Festival started at Kibabii University yesterday, with a message on the need to protect children for a better future.
Participating in the event are Early Childhood Development (ECD) centres, primary and secondary schools, colleges and universities.
St Theresa's Tartar were in colourful Pokot costumes, including African beads, as they rendered their creative cultural dance Lokapera! Lokapera, which means disaster or catastrophe.
The fast-paced cultural dance depicts a young girl (Mercy Cherone), who in spite of stringent school rules, sneaks in a phone.
With the help of accomplices, she has access to internet and as a result, Facebook and other social media sites become her breakfast, lunch and dinner.
While at it, she meets a stranger on Facebook and they start chatting. Their chats soon veer off to possibilities of having a relationship.
The two agree to meet at a pub.
The love pot gets heated and it boils down to an abusive relationship.
Finds way
She somewhat finds a way out in this daze script by Allan Chahasi and choreographed by David Olengo and John Konoo.
Not to be left out was Kakamega High School who had been watching the action.
They stormed the stage with a Luhya dance depicting a medical profession in dire straits, as nurses and doctors find it hard to continue without a pay rise.
In the dance, the medics' representatives have entered into a Collective Bargaining Agreement with their employer, and they patiently wait for authorities to implement it as agreed.
But to their utter shock, the Government seems to have kept the agreement in a shelf gathering dust.
They give an ultimatum to arrogant officials who whilst saying there's no money, can be seen riding in SUV vehicles, dining and wining in five star hotels and philandering around.
On the day of the strike, it begins peacefully until the police turn up in anti-riot gear, firing teargas and beating up medics.
But soon there is light at the end of the tunnel as the Government and medics reach a middle ground and everyone is happy.
Nairobi School took to the stage with their play Utopia.
In the play, depicting school life, a Christian Union leader joins forces with another colleague to manipulate the students in the name of the Lord.
The duo brainwashes the whole school and they have become a law unto themselves.
Written by Chris Wangalwa and directed by A Abdikadir, the play has sparkles of humour and a parody on how the church conducts itself in the modern world.
State House Girls Primary School mirrored primary healthcare in society with a special focus on washing hands in their modern dance Wash It.
And their counterparts, Uasin Gishu Primary School, wowed the audience with their creative dance, Shiveka, depicting a young boy who loses his father.
Due to lack of school fees, he takes refuge at his uncle's home but his good performance becomes a curse instead of blessing. His cousin, who is in the same school, performs poorly.
His aunt is furious when the uncle rewards him for his good performance
But when free primary education is introduced by the Government, he finds relief and succeeds in life, becoming a blessing to his family and community.
Roboti, a well-rendered choral verse by Milimani Primary School, Nairobi, shows how mobile phones have affected family relations.
A daughter wants to use her mother's phone but when the mother refuses, she is angry and claims she doesn't love her.
To appease the daughter, the mother gives into her demands to access her phone but later rues the decision.
St Mary's School Yala was the first to open the stage with the play The Road Block by Frederick Shitubi.
The play depicts a group of indisciplined students but beneath this is a deep drug abuse and indoctrination that borders on boarder security.
The theme of the festival is Promoting Moral Responsibility among Youth through Theatre and Film and has been supported by the Kenya film Classification Board to the tune of Sh20 million.