Sitati's powerful vocals win souls as music awards flow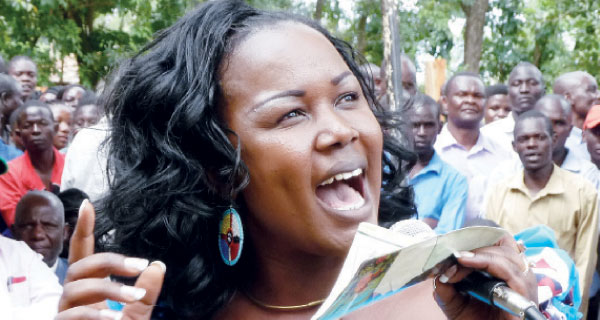 Selina Sitati PHOTO: COURTESY
By FRANCIS ONTOMWA
That she would one day star among Kenya's top gospel artistes was farthest from her imagination.
But award winning gospel artiste, Selina Sitati, grew up with a burning passion of singing and her first stop was at the Salvation Army Choir, Quarry road, Nairobi, back in 1997.
Here, she was among the lead singers and her angelic vocals would take everyone to a crest of a wave.
Later, slowly though, the desire to try solo music heated up.
"I was not very sure about it at first. Some friends kept on encouraging me to try solo music and I made up my mind," recalls Sitati, an award-winning artiste who sings in the Bukusu and Swahili.
In 1998, she broke the ice with her first Swahili album Yesu Jina Kuu, one which she describes as a turnaround in her musical career and agrees that it gave her the wings to fly.
"The reception was amazing. I remember so many people calling me to just thank and celebrate God with me for the breakthrough. People liked it and this energised me to move forward," says the soft- spoken, 39-year-old.
The climax for the mother of one was last year when she won the Groove Award 2013, Western Song of The Year and this she says has widened her fan base and attributes it to God's favour.
Wele Ekhwikomba, that translates to my 'Soul Sings Desires You', is the song that did the magic for her and today, she is a much sought after artiste. Her songs appeal to all generations. "This is my signature, the song did extremely well and this is all because of God. The song basically is a praise item that glorifies God's wondrous nature and every single word in the song is Bible inspired," she observes.
Over 30 songs
Currently, she has over 30 songs to her name and some of her top hits include, Okharia Tawe (Do not be Afraid) Nabasima Bosi (He loves you), Khakaba Khingilila (God reign in) Wasamehe, Wajibika, Nijaze Roho, among others.
Born and brought up in Chwele, Bungoma County, Sitati, a second born in a family of eight, has managed to resonate with her growing fan base in Western.
She has enjoyed airplay in top local radio stations and this has made her name spread like bush fire. "This was actually a special request from my fans. They started asking for songs done in Bukusu and I had to break away a little from Swahili. However, that does not mean that I have stopped performing Swahili songs," she explains.
She adds, "I am inspired by the words contained in the holy book, it takes me months to compose my tunes and at the centre of it all is my bible, and again, I party a lot."
Sitati subscribes to the notion that artistes should wait upon God's revelation before thronging to studios.
With her team of four backups who include her younger sister, she has performed in various functions in major towns that include Nairobi, Kakamega and Bungoma. Away from singing, the industrious Sitati is a civil servant, working as a revenue officer at the Kenya Ports Authority and the balancing act is no mean feat.
"It is a tricky affair I tell you. It calls for sacrifice but I thank God for strength. I have a good employer, everyone understands what I do and I am usually supported very well," adds Sitati.
Outstretching industry
According to her, the gospel industry has revolutionised and is outstretching, and her advice to artistes is to peg their career to God in order to become a blessing to people. "Music has grown, looking several years back you realise things have completely changed, gospel has made strides, this is indeed a good thing and my advice to upcoming musicians is to anchor their souls in Christ before anything else," she advises.
Sitati went to Kaptanai and Yabeko Primary schools in Chwele and for her O-levels she at Chwele Girls' Secondary School.
She is inspired by established gospel artistes, Sarah Kiarie, Gloria Muliro, Reuben Kigame and Mary Atieno. Her eight-year-old daughter, Natasha Blessing Kenneth is her greatest happiness and source of strength.
For Sitati, 2014 is her golden year and already her plans are cut out; she is planning to release her third album that will go with the name Mwamba Wangu. Already she has recorded four songs.