Benga Hisca live performance Awards fete vernacular musicians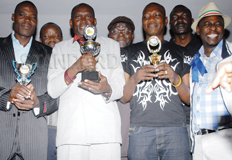 Luo Benga Artists Opiyo Jarumba, Osito Kale with their awards. [PHOTOS: BONIFACE OKENDO/STANDARD]
By CAROLINE NYANGA
The much-anticipated inaugural Benga Hisca live performance Awards were hosted last weekend in Nairobi.
After weeks of submitting entries for the awards, folk musicians gathered in Nairobi's Meladen Club, along Upper Hill estate, for what was touted as the biggest vernacular music awards.
Dubbed Benga Hisca (High Scale) Awards, the ceremony brought together the best of Kenya's musicians for the annual event to celebrate outstanding talent in vernacular music and stage performance. The initiative is the first of its kind in the continent and showcased the best of African culture.
"Music genres such as Benga, Mugithi and Taarab have been in existence, they have often existed at the periphery of the fast-growing entertainment industry," explains Hisca CEO, Charles Ndaga. "This is however set to change following the awards ceremony that will fete seasoned and new talent who specialise in vernacular music," he adds.
With gate charges pegged at Sh500, fans from different communities trooped in for the show that saw seasoned and new musicians battle it out. Renowned Benga maestro Dr Osito Kalle (Elly Mirasi Akumu) and his Nabi Kings Victoria D Band, thrilled fans with some of his evergreen tunes, among them Asembo Piny Maber that left the crowd yearning for more when his time was up.
Other performers included Opiyo Jarumba, Emily Nyaimbo, Otieno Small, Argeorgy Dume, Atis Pesa, Oush Jalamo, Ochieng Jaludhi, Aluso Challey, Otis Kowino, Obongo Sangalati, Stevo Kraby, and Osweto Kanda who were all nominees.
Judges Athenasius Owuor and Jack Anindo were on the lookout for the musician who made good use of the musical equipments, from the instrumental sound to drum playing and voice layout.
Veteran musician Dr Kalle was given a life honour award for Best reigning Benga Maestro. Omondi Gimor Ogula from Nabi Kings Band won the Best All Round Benga award.
Best Solo Guitarist went to Charles Omondi Oteng, popularly known as Aluso Chali of Aste Aste International Band. Awilo Manyake of Extra Jolie Boys Band emerged best drummist while Otis Kowino of Kowino Jazz Band won the Best Lead Singer.
Tito of Super Meja Band was crowned the best bass guitarist while Michael Owenga of Siemba Stars took the favourite rhythm guitarist.
The award for the best stage use went to Ous Jalamo of Siemba Stars while Super Meja International Band won the Best Stage show.
"The awards prove that vernacular music is not inferior," said Benga star Otieno Small.
"I fully support the initiative and hope vernacular artistes will finally get the recognition they deserve," said Gor Semelang'o, the chairman of the Youth Enterprise Development Fund.
Though not popular among the youth, traditional vernacular music boasts a massive following in the country, with genres such as Benga, Mugithi, Taarab and Ohangla being attracting many revellers.
These artistes are, however, largely ignored in major corporate events despite them commanding a huge following.
The name Hisca Awards is derived from the word High Scale. Its organisers hope its success in Kenya will see it grow into Uganda, Tanzania and the entire continent.
Musicians from various Kenyan communities are requested to visit www.hisca.co.ke and register for the next event set to be held in Mombasa early next year.
Ndaga says that unlike other music organisations known to award famous musicians, Hisca will ensure that it nurtures, empowers, supports and promotes new talent besides recognising old ones. The next event will be in Mombasa.