Beyonce strips down for yet another sexy bikini shoot
STANDARD ENTERTAINMENT
By DAILY MAIL | January 11th 2013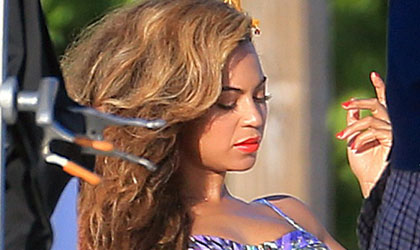 Beyonce [Photo: Courtesy]
DAILY MAIL
Proving she is as Bootylicious as ever, Beyonce has once again flashed her famous curves in front of the camera for a sexy shoot in the Bahamas on Wednesday.
Despite having a one-year-old to run around after and a multimillion dollar career, the 31-year-old singer has found time not only to get her pre-baby body back but make it even more fabulous.
On the same day her raunchy new GQ Magazine photo shoot was released, the former Destiny's Child front woman was posing up a storm in the tropical locale.
Beyonce - who is married to mega rap mogul Jay-Z with whom she has a daughter Blue Ivy - looked like she was ready to rumba for the tropical, but retro, photo shoot.
Wearing a flower behind her ear and her blonded hair cascaded to one side and flowing down her head in soft waves, the singer looked like a mermaid.
For the shoot the curvacious star donned high-waisted bikini bottoms with a matching blue and green zip up eighties-inspired corset top.
Despite just being announced as performing the Nation Anthem at President Obama's upcoming inauguration, having to prepare for her performance at the Superbowl and just revealing that after eight years Destiny's Child will release their first original song, Queen B looked very relaxed.
And no wonder - the star was surrounded in assistants pampering her and ensuring she looked the best for her photo shoot.
It is not all work however, as the singer also bought along husband Jay-Z and her daughter so they could have a family holiday at the same time.
On Wednesday Jay-Z posted a picture of his growing girl Blue Ivy playing the popular card game Uno.
As Beyonce posed up a storm in the Bahamas, her photo shoot with controversial photographer Terry Richardson was released for GQ magazine.
Wearing a selection of saucy looks, the Single Ladies singer showed off her amazing figure.
Wearing leopard-print underwear and a black midriff top, she put her cheeky side on show while also wearing racy heels.
While the cover she wears a daring blue and white cropped baseball top which flaunted her toned and taut stomach and skimpy red and black leopard-print underwear.
She told the magazine - whom branded her one of the sexiest women of the 21st Century - that she wants to empower women but is not always sure how much influence she has.
'When I was writing the Destiny's Child songs, it was a big thing to be that young and taking control,' she said to GQ.
'And the label at the time didn't know that we were going to be that successful, so they gave us all control. And I got used to it. It is my goal in life to be that example.
'I now know that, yes, I am powerful. I'm more powerful than my mind can even digest and understand.'