Kayamba Fiesta defies norm
STANDARD ENTERTAINMENT
By - | December 21st 2012
By Kiundu Waweru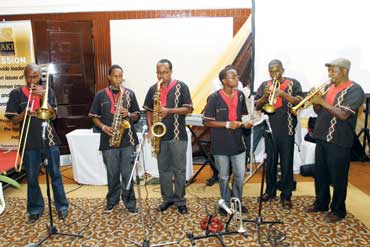 Kayamba Brass Band. [PHOTO: COURTESY]
Parapara is a beautiful, humour-laden song, perhaps the best from the two-album offering by the popular band, Kayamba Fiesta.
Since 2000, Kayamba Fiesta has been entertaining Kenyan audiences with harmonious acapella voices, drawn from their own composition and renditions of popular numbers.
Parapara is a feel-good song from the album of the same title, the other one is Safari ya Bamba perhaps stands out as it brings a unique Jazz sound that is at once traditional and then contemporary. It's a song about the Luhya community, and it's anecdote laden, another attraction outside the beautiful musical arrangement.
But to Peter Kadabbi, The Fiesta Band Leader, Parapara is an experiment.
"We are slowly morphing from acapella to instrumental music," he says.
In fact, Fiesta broke from its tradition and adopted use of instruments, the saxophone, and trombone, trumpet, which has birthed the Fiesta Brass Band. The Brass Band, with influences from Hugh Masekhela, the Ladysmith Black Mambazo and Fela Kuti plays an eclectic array of Jazz music.
Unique jazz sound
"We are striving to create our own unique Jazz sound, kind of the Orchestra Baobab, the Senegalese Afro-Cuban Band, but with a Kenyan inspiration," adds Kadabbi.
At events, they play both acapella and with instruments, according to the audiences' preferences. They have been invited to many corporate events, weddings among numerous other functions.
Playing the saxophone, Kadabbi is joined on stage by his band members, whom he says can be up to 20, depending on the season. He also has recruited his sons Christian Kamau, 19, who plays the trumpet, and Kevin Ngeru, 22, on the sax. Both are students at the Daystar University.
Ernest Thiong'o, the Musical Director, trains the team, joining the long list of jazz musicians.
Fusing instruments
Kadabbi argues that fusing the said instruments with Kenyan traditional ones like the percussions. the horn, and the kayamba, a hand shaken instrument which inspired the group's name, would give them that Kenyan identity.
Kayamba Fiesta is an offshoot of Kayamba Africa that was formed in 1998 by six members who had been playing at the St Barnabas Church, Nairobi, in 1998.
Peter Kadabbi disagree with his founder colleague, Juma Odemba, and he left to found the Fiesta. This marked an onset of confusion galore, as a few years later, other members broke out from the original group to start the Kayamba Roots. Later, Kayamba African Beats also sprouted, all fighting to keep the tag Kayamba, the only identifier with the vast audience they have attracted in more than a decade of entertaining. Kadabbi now hopes that the Fiesta Brass Band will make them stand out.