Beyonce rubs in Obama victory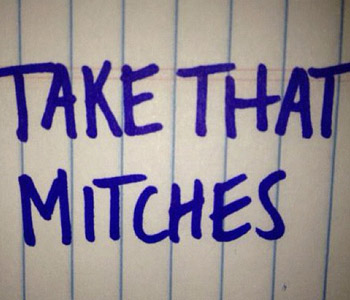 Beyonce's note [Photo: Courtesy]
-Adapted from Huffington Post
She's always been one of Barack Obama's biggest supporters and she knows exactly how to celebrate his dramatic re-election.
Beyoncé, who put all her support behind the US President to ensure that he got voted in for a second term, decided to throw his victory in the face of Republicans by posting a picture of a handwritten note saying: 'TAKE THAT MITCHES.'
On top of the world after the President got voted back in to serve for another four years, the superstar clearly wanted to show the world how happy she was.
One of Obama's most high-profile supporters, Beyoncé showed just how proud she was of the newly re-elected President and his First Lady and opted to rub it in the face of all of Mitt's supporters.
Summing up the dramatic election in just three words, the Crazy in Love singer made her thoughts on Republican voters crystal clear.
The star has been behind the President all the way and penned a touching correspondence to him just hours before casting her vote.
'Sonko' roughed up by MRC members
Youth roughed up Makadara MP Gedion Mbuvi alias Sonko outside a court where he had gone to seek release of MRC leader Omar Mwamnwadzi.