Kenya's Women Football players feted
WOMEN IN SPORTS By Mike Kihaki | December 15th 2021 | 3 min read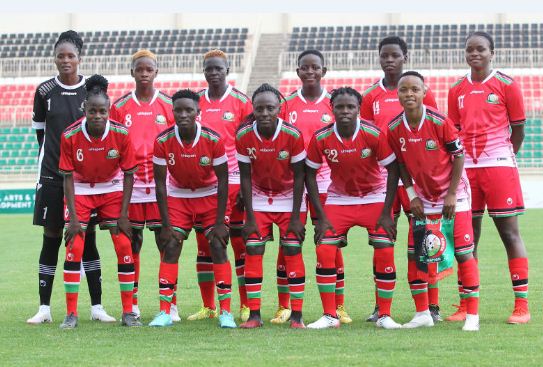 The 11 crème de crème women players of the season were finally unveiled.
The event which was organized by the Kenya Footballers Welfare Association, one of its kind and held at Zetech University, Ruiru saw the National women's team Harambee starlet players dominate the Gala.
Thika Queens scooped six out of the eleven awards that were up for grabs leaving five that was shared between Vihiga Queens and Ulinzi Starlets.
From a striker to one of the polished goalkeepers in the country, Monica Karambu, was voted the best.
Karambu who also scooped the golden glove of the last season 2021 of the Women Premier League run by the Football Kenya Federation beat other two, to clinch the coveted trophy.
Dorcas Shikobe, Harambee starlet captain who plays for Cyprus Division one side, Lakatamia FC was also feted.
Other players from the Thika based team who made it to the list were Wincate Kaari, left centre back, Lydia Akoth Waganda, Left midfielder, Mwanalima Adam, who also plays in Turkey, right midfielder while Juliet Auma was voted as the best left centre back.
Tereza Engesha and Vivian Nasaka both from Vihiga Queens were voted in the as best centre forward and right back respectively while Neddy Akoth and Sheril Angachi of Ulinzi Starlets scooped left forward and central defensive midfielder awards.
Former Makolanders' player who signed for Zetech Sparks, Rael Kamanda, was voted the best right attacking midfielder, wrapping the top 11.
The President's Award went to Chacha Tabaka- played for Harambee Starlets from 2005-2016.
They were crowned for their performances in the 2020/21 season, with each walking away with gift hampers, personalized trophies and a cash prize of Sh50,000.
The winners will have the opportunity to network and connect with mentors, not only in the sports industry but also in the corporate world.
The best players were voted for by the KEFWA committee and league players in a process that started on October 22.
A list of 44 players were selected by the KEFWA committee then narrowed down to 33. The 33 players were voted and battled it down to final 11.
Thika's star started rising early in the year that saw them maintain an unbeaten record hence clinching the top-flight title.
Engesha and Nasaka were instrumental in the Vihiga Queens historic CECAFA club championship title which in turn secured them a slot at the Confederation of African Football Women's Champions League that took place in Egypt in November.
Atieno was pivotal in Ulinzi's stellar performance as they claimed both the FKF Women's Premier League Cup as well as the Super Cup. On the other side, Angachi and Kamanda staged sterling performances for their teams Gaspo and Makolanders respectively.
KEFWA President James Situma says the program will enable women footballers to curve their niche outside football and help them identify sustainable exit strategies, for a smooth transition.
"This is a dream we have had for a long time and seeing these players get recognized is our joy.
We hope that it becomes bigger and we get to those playing at grassroots levels. Women's football is growing and we want to be part of that growth in whatever capacity we are in," said Situma.
The awards come just three days before the start of the 2021/22 KWPL season that is set to kick off on December 18. ?