Vihiga Queens cage Simba to reach Champions League qualifiers finals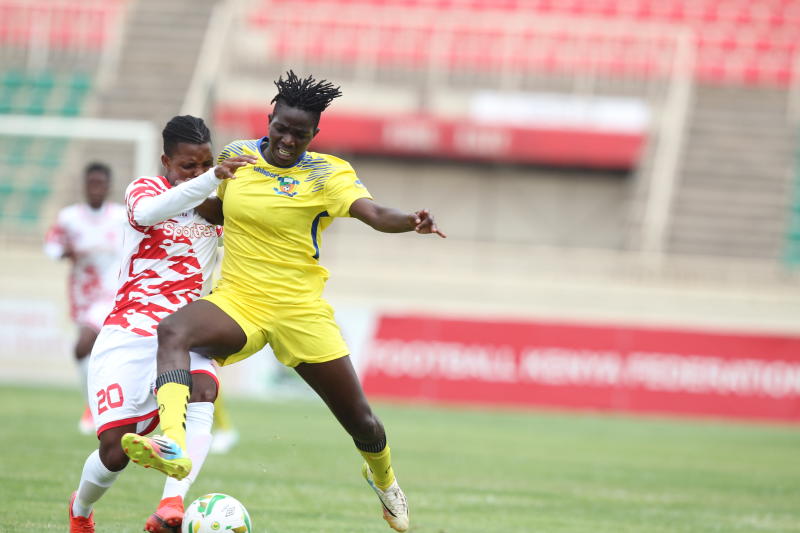 Vihiga Queens stormed through to the final of the regional Caf Women's Champions League Qualifiers after beating Simba Queens of Tanzania 2-1 at the Nyayo Stadium in Nairobi on Monday.
Jentrix Shikangwa scored a stunning header at the death to inspire Vihiga past the unbeaten Tanzanian Queens.
The win now places the Kenyan representatives' one step closer to earning the sole ticket reserved for the region at the inaugural Caf Women Champions League.
Maureen Achieng gave the hosts the lead at the hour mark before substitute Aisha Mnunka in the 70th minute scored to tie the scores at 1-1.
Just as the match looked headed for extra time, Harambee Stars star Shikangwa rose to the occasion to score the winner in the 88th minute as Vihiga Queens knocked out the Tanzanian outfit at Nyayo Stadium on Monday.
Achieng has now scored seven goals in the competition followed by Shikangwa with six goals.
Vihiga Queens will now meet the winners of the second semifinal pitting Lady Doves of Uganda against Ethiopia's Commercial Bank.
The match started on a low note with both teams opting to defend deep in an attempt of avoiding conceding an early goal.
Vihiga opted to play long balls and their first chance fell to Teresa Engesha who despite rounding off the defenders in the eighth minute could not open the scores after directing her shot directly at Janeth Simba in goal for Simba Queens.
Simba's winger Flavin Mawete also came close to break the deadlock in the half hour mark but his shot would be deflected for a corner after she had left dead three Vihiga defenders with her pace.
In the final half, both teams increased the tempo of the match and Vihiga were first to reap the fruits of attacking set plays when Achieng scored his seventh goal of the championship off a header in the 64th minute.
After failing to get an early reply, Simba coach introduced Mnunka whose first touch of the ball ended in the net after tapping in from close range after Mawete had flicked the ball into her path from a resultant free kick.
The day will however belong to Shikangwa after she rose higher than the Simba defense in the 88th minute to head in the winner past a helpless Simba goalkeeper to win the match.