3,000m steeplechase women trio start chase for elusive gold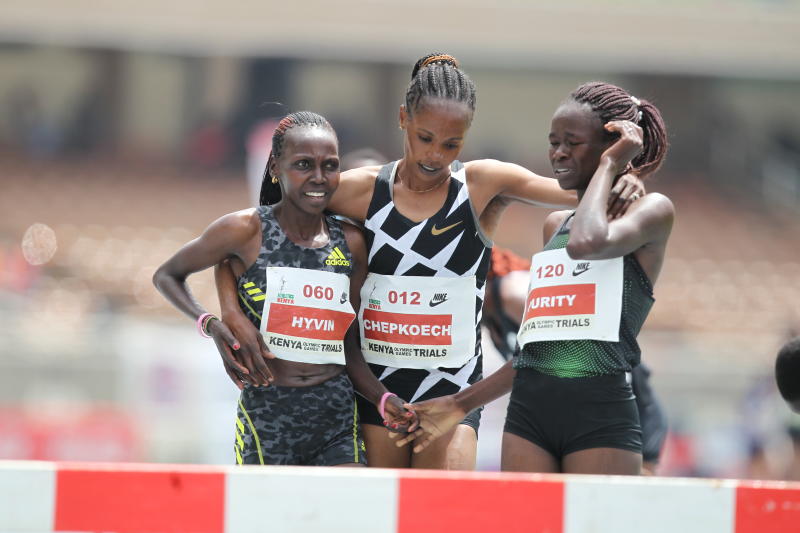 Kenya has never won an Olympic gold in 3,000m women steeplechase at the Olympics.
While the men have won gold in the water and barriers race at the last nine Olympics, the women will be hoping that the wait will end at the 2020 Olympics in Tokyo.
The chase for that elusive gold medal starts at the Tokyo Olympic Stadium on Sunday when the Kenyan trio of Beatrice Chepkoech, Hyvin Kiyeng and Purity Kirui race in the heats at 9:40am (3:40am in Kenya).
It is expected that the trio will easily sail to the final set for next Wednesday, but after what happened in the men heats on Friday where Leonard Bett was eliminated in the heats, the Kenyan girls will not be taking anything for granted.
For the first time though in a very long time at the Olympics, the Kenyan girls are the pre-race favourites as compared to the men team who many think will lose the gold medal for the first time in nine Olympics.
World record holder Chepkoech has however not been in the best form in 2021 as she has lost in a number of Diamond League races and also locally in Kenya.
The good news though is that Chepkoech has been losing to her compatriot Kiyeng, with the Olympic silver medallist from Rio in 2016 hoping to upgrade her medal and become the first Kenyan woman to win an Olympic gold in the steeplechase.
"After winning a silver medal in 2016, it is my prayer that this time I will get a gold medal. However, like any other championship, it will not be easy but I will do my best," Kiyeng said.
Kiyeng, who also beat Chepkoech at the Kenyan trials however says they will only be able to win the event if they work as a team.
"Teamwork is the key for us since we already have a very good understanding with my teammates, Beatrice and Purity," she said.
Chepkoech on her part revealed that she has been battling an injury ahead of the Olympics, but she is happy that all is well now and she believes she is back to her usual form.
"We have had good preparation and I think I am personally ready. Actually, I had been having an issue with my hamstring since our trials last month," Chepkoech said.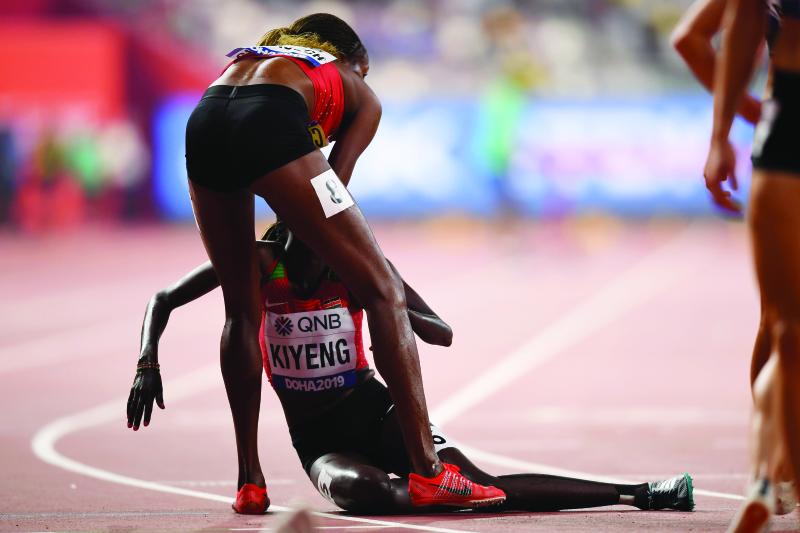 Kirui agreed that the Kenyan team has the possibility of sweeping the podium in the water and barrier race.
"We have trained together very well and I have confidence with my teammates we can do great things. The three of us making the podium is possible," a confident Kirui who is the 2014 Commonwealth Games gold medallist said.
Apart from the women steeplechase, Emmanuel Korir will also be in action in the men 400m.
Korir who is doubling up in the 800m and 400m will be racing in the 400m heats at 10:25am (4:25am Kenyan time)
Kenyan action on Sunday
3:40am: 3,000m steeplechase women heats- Beatrice Chepkoech, Hyvin Kiyeng, Purity Kirui
4:25am: 400m men heats- Emmanuel Korir
2.25pm- 800m men semis (Kenyans through will be known after heats)