Olympics: Malkia Strikers lose by straight sets to South Korea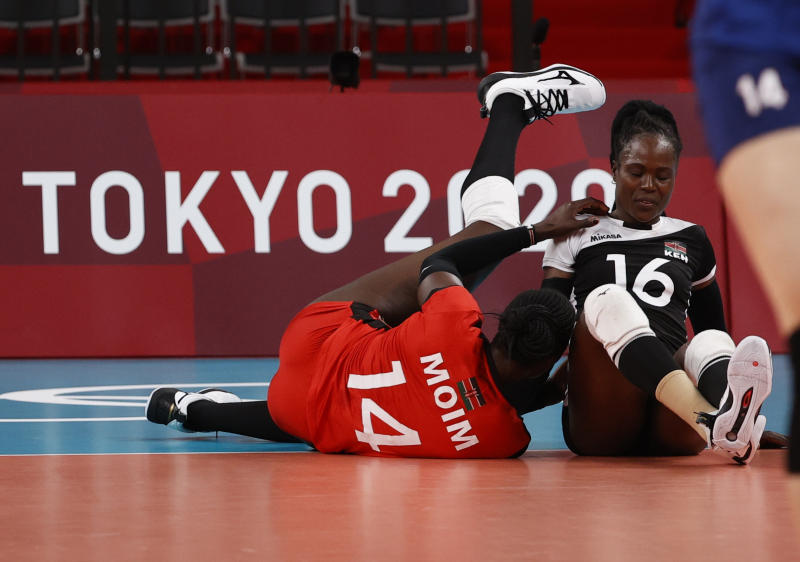 It was once again so close yet so far for national volleyball team Malkia Strikers as they lost 3-0 (24-14, 25-22 and 26-24) to Korea Republic in their second match at the Tokyo Olympics.
Team captain Mercy Moim summed up the show against Korea, saying if only they can learn to have a better finishing power, then they would have won at least a set against the Asians.
Another senior player in the team, Jane Wacu said the gap between Kenya and other teams was narrowing with every match and it was only a matter of time before they can get a set from the top sides or even win a match.
"I wish we can have that finishing touch in our matches. That was the reason why we could not a win a set against Japan in the first match and was also the case against Korea on Tuesday," Moim said after the match.
She added that with some good tactical changes in the final minutes of the set, it will give Malkia a big chance of getting something at major competitions.
"I don't know why we always come close to winning a set this Olympics only to lose at the end. I am, however, happy that we have really closed the gap between us and Korea."
"Korea has always beaten us even under-10, but we have shown that we have improved and nobody knows; we might even get some sets against teams like Brazil in this competition," Wacu said.
Malkia started the match quite well in the first set as they took a 4-1 lead with Sharon Chepchumba, better known as Chumba, being the main point of attack once again.
Young players like Glays Ekaru also gave a good account of themselves while libero Agrripina Kundu was always ready to go down on the court and ensure there were no easy attacks for the Koreans on the floor.
In boxing, all the four Kenyans bid the Tokyo Olympics farewell after all losing in the round of 32 matches.
Elly Ajowi and Elizabeth Akinyi were the latest Kenyan boxers to bite the dust.
Ajowi lost to Cuba's Julio Cruz on Tuesday while Akinyi saw the referee stop her fight in the first round in favour of Maizambique's Helena Panguana.
The two other Kenyans Nick Okoth and Christine Ongare were eliminated in the opening days of the competition.
Captain Okoth was beaten by Mongolia's Erdenebatyn Tsendbaatar on Saturday while Ongare lost to Philippine's Irish Magno on Sunday.
It was also another poor outing for Kenya in taekwondo with debutant Faith Ogalo losing 13-0 to Serbia's Millia Mandic.
Meanwhile, Eliud Kipchoge, the world record holder and reigning Olympic marathon champion, said he is ready to defend his title and was excited to run in the city of Sapporo, where the event is slated to take place next month.
Kipchoge, the only man to run the distance in under two hours, is one of the stars of the Tokyo games and his race on August 8 is one of the most anticipated battles at this year's Olympics.
The Kenyan great said recently that defending his Olympic crown will be his highest achievement and that he was still hungry to compete on the biggest stage and win medals.
"I have completed my training and I am really excited to race in Sapporo," Kipchoge said on Twitter.
"For me, there is no greater race than competing for an Olympic medal," he wrote.