Will Kenyan women strike first ever Olympic steeplechase gold?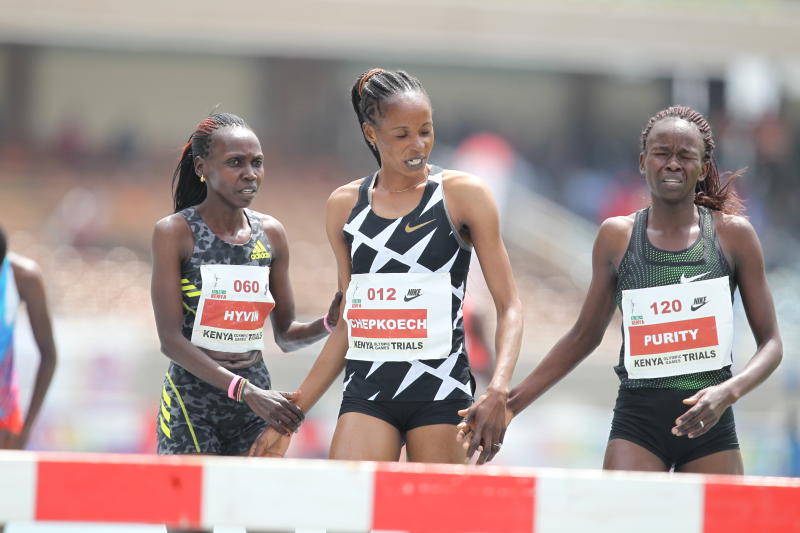 The writing is on the wall. Since 1960 when Kenya made her Olympic debut in Rome, Italy, Kenya has not won a gold medal in the women's 3,000m steeplechase.
This is despite having won the men's race in 11 Olympic Games editions –1968 in Mexico City to 2016 Rio Olympics.
Since the women's 3,000m steeplechase was introduced at the 2008 Beijing Olympic Games, no Kenyan has won gold save for Kenyan-born Ruth Jebet, who ran away with the title at the 2016 Rio Olympics.
Yesterday, Olympic silver medallist Hyvin Kiyeng and world champion Beatrice Chepkoech vowed to change the pecking order: win the women's race and stop American and Ethiopian aggression in Tokyo.
Chepkoech and Kiyeng toyed around the rich field at Kasarani Stadium to book the top two slot without much fuss during the Olympics trials. Kiyeng upstaged Chepkoech in the final stretch in what signals a tough duel in Japan.
The two, who train under Dutchman Jos Hermens at the Global Sports Communications, showed little respect for rich field that had 2014 Commonwealth Games champion Purity Cherotich Kirui.
Kiyeng won in 9:24.5 ahead of Chepkoech 9:25.0 and Cherotich, who timed 9:25.6.
The huge task now lies ahead. But Beatrice Chepkoech, the world 3000m steeplechase champion and record holder over the distance, has vowed to kill two birds with one stone this season: win an Olympic gold and lower her all-time mark.
They have however a mountain to climb against America's 2017 world champion Emma Coburn and silver medallist Courtney Frerichs at the Olympic Games.
Kiyeng said she wants to improve on her silver medal in Rio and perhaps make history as the first Kenyan to win Olympic 3,000m steeplechase title.
"I feel great beating Beatrice here. We will now sit down and focus on how we can appear on the podium in Tokyo. I want to improve on my performance in Rio," said Kiyeng.
Chepkoech, however, said she wants to make her maiden appearance at the Olympic Games in style.
"I feel good. I am happy to have made it to the Olympic Games. It is not easy to make the national team here."
She said she can still lower her world record mark.
Samuel Gathimba qualified for the Olympics in the men's 20km walk in 1:18.23 upstaging Simon Wachira (1:22:07) and Dominic Ndigiti (1:24.32). Emily Ngii won the women race in 1:30.56.