Ongare bows out of the Africa Zone Three Boxing Championships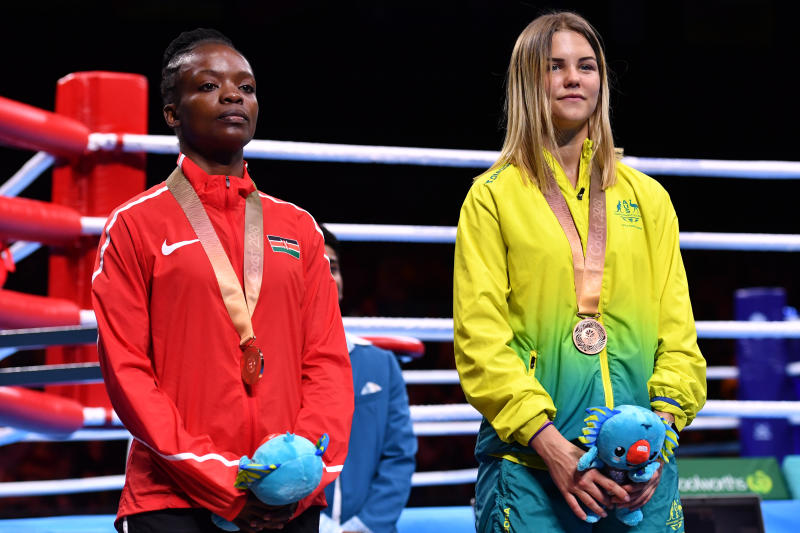 National flyweight champion Christine Ongare has bowed out of the ongoing Africa Zone Three Boxing Championships in Kinshasa, the Democratic Republic of Congo.
She did so on Friday afternoon from injuries she had sustained in a previous match against Havyarimana Ornella of Burundi on Tuesday, which she went ahead to win on a unanimous points decision.
Doctors ascertained that Ongare was unable to play in the third bout from a deep cut in her right eye in the third match having lost to Munga Zalia of DRC in the second match.
Doctors believe the second fight against Zalia must have aggravated the injury.
This afternoon she (Ongare) was to take on Ndongala Rossette of DRC in the finals in a match that should have decided who takes the gold and silver medals between the two top boxers in that weight category in Ongare and Zalia.
As a result, it paved the way for Rossette to be awarded a walkover hence complicating matters for the Kenyan female flyweight champion to walk away with a silver medal.
Head Coach Musa Benjamin expressed his frustration over the matter but was quick to point out that they had to go by the directions of doctors to save their boxer for future international assignments.
"It is so unfortunate to have had this boxer bows out of this crucial match at the time of need. However, we must abide by the instructions from our doctors," Benjamin told The Standard Sport.
Ongare is among the four Kenyan boxers who have already qualified for the 2020 Tokyo Olympics Japan in August.
The rest are 2015 Africa Boxing Championships lightweight gold medallist Nick Okoth, female lightweight champion Elizabeth Akinyi and national heavyweight champion Elly Ajowi.
The quartet was using the six competition to shape up for the global games while the rest of the Kenyan squad was using it for the World Olympic Qualifiers in Paris, France in June.