Premium
Why Malkia Strikers coach Bitok wants to switch from coaching to administration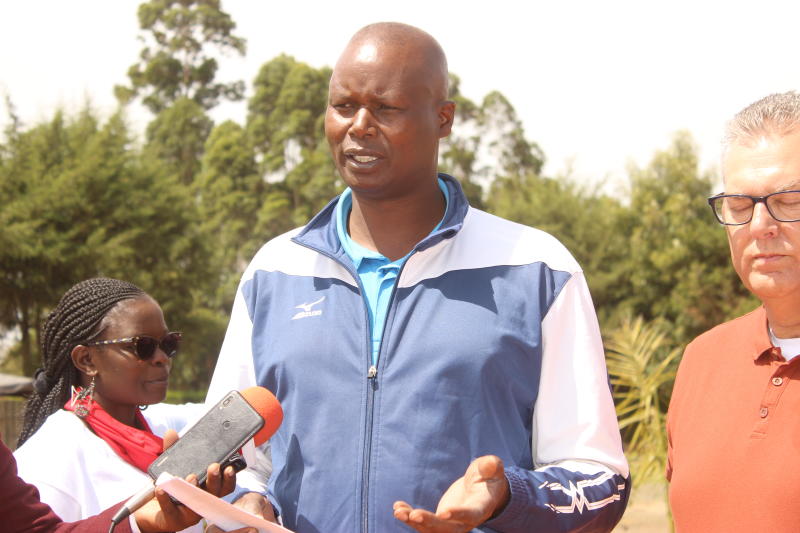 After taking the women's national team – Malkia Strikers to the Tokyo Olympics, coach Paul Bitok is now eyeing a managerial position at Kenya Volleyball Federation.
With 17 years as a coach and more than 10 years as a player, Bitok is seeking to serve KVF as a vice chairman after an illustrious career.
He opens up on why he is running for office, his last assignment as tactician and lessons from the Tokyo Olympics among others.
Why are you making the decision to shift from coaching to administration?
It is not easy to transition to management. I believe that the experience I had in North African countries, Europe and in Rwanda will enable me to deliver as Vice Chairman.
Why go for the KVF vice chairman position and not the chairmanship, and yet the current chair is finishing his term?
It is always good to learn from others who have been there before, so that we can help the federation. It will be good for me to work under those who have been in senior management positions before I seek the chairmanship position.
After working for a few years with the current chairman (Waithaka Kioni), he has given me the opportunity to have international connections.
How will you transform KVF if you will be lucky to get elected in June?
I am going to use my international connections to up the number of sponsors for both the men and the women's national teams.
Our national league was not professional but I brought in changes as Malkia Strikers head coach. When I came back from Rwanda, I tried to change this. We started playing all our matches indoors. I got a lot of resistance from some clubs and federation members
Last year, I convinced clubs and today, 60 percent of our matches are now indoors. My aim is to have at least 80 percent playing indoors this year.
What is your last assignment as Malkia Strikers coach and what do you hope to achieve?
I am taking Malkia Strikers to the 2022 World Championship in September in Poland and the Netherlands and that will mark my final assignment as coach. We are praying that when the draws are done (on March 7) our team will be pooled in a group that will give us a chance to qualify for the second round.
How did your love for volleyball start?
First, I thank everyone who has helped me to be where I am today.
I started adoring volleyball when I was a young primary school boy in Simat (Uasin Gishu County). Everyone loved and played volleyball in Simat and I also admired the sport.
I didn't play much those days because my elder brother took me away from Simat where volleyball was known but I when I joined Kapsabet Boys High School I went back playing again. At Kapsabet Boys, I played volleyball and basketball.
How did you do in volleyball in your high school days?
The teachers put pressure on me to play basketball, which was popular in Kapsabet Boys at the time, but my heart was in volleyball. I was not interested in basketball because I didn't have good basics in the game.
How did you feel that you didn't get the opportunity to grow your volleyball career in school?
I had to travel all the way to St Patrick's High School, Iten where my brother was studying, to train for volleyball under renowned athletics coach Brother Colm O'Connell.
After high school I joined Kenya Posta and Telecommunication (KPTC) as a player, before later joining Kenya Commercial Bank (now just KCB Bank)
Do you feel that while you were a player, you made an impact?
I feel that I achieved as a player, before transitioning to coaching. While playing for KPTC and KCB, I reached the international stage. I took part in the Africa Club championships and I was spotted by a Tunisian club – Sportive de Radès in the 1990s where I played for four years before joining a Croatian Club – Sacred for three years. I later returned to Kenya to coach KCB.
How was your transition from playing to coaching?
I made a decision to nurture volleyball talent after succeeding as a professional player. Clubs spotted my talent as a player and opportunities came my way.
But before I even started coaching, I went to Hungary to study Sports Science and secured the right qualifications.
How has life as a volleyball coach been?
I had a good and successful life in coaching.
The first year, in 2005, I propelled KCB to the third place in Africa and the following year (2006), I won the African Club Championships with the same club. I was then immediately appointed to the technical bench of the World Championship-bound team and the World Championships, I was appointed the assistant coach until 2008 when I became national team's junior team.
During this time, I was approached by the APR club in Rwanda and I was signed as a professional coach. I coached its men and women's team, winning the national league. That would mark my long stay in Rwanda.
In 2010, Rwanda's Ministry of Sports spotted my coaching talent and called me to the national team as the head coach. I was in Rwanda, with the national team for ten years before returning to Kenya in 2018.
How was it, working for the Rwandan side?
I had so many projects because I held the position of an advisor to the Sports Ministry in Rwanda and I was charged with spearheading youth and junior teams' initiatives.
I started different centres of excellence which helped Rwanda. It took us three years before qualifying for the World Championship in both Beach Volleyball and Indoor, with the same players I started with in 2010. We participated in the World Championship and the last Commonwealth Games with the same players I started with.
Did you expect a return to Kenya as a tactician, after coaching Rwanda?
I expected to return home. I didn't expect to return as a coach but I wanted to progress from coaching to KVF leadership.
But Waithaka Kioni (KVF chairman) and other members who knew me and the work I did in Kenya and Rwanda, and appointed me the Malkia Strikers head coach.
But why don't you want to stay longer as Malkia Strikers coach despite such success?
I didn't want to stay longer because I still have more to offer to sports. I believe that I can help better volleyball when I come with a variety of projects in KVF. One of them is vibrant youth teams, which we are lacking at the moment. KVF does not have talent centres of excellence. We are only getting players from schools, which is not right. We must have our own academies.
As the women's national team coach, what is your opinion of the men's side?
The men have been left behind. I don't think that it is the talent that we lack. It is the opportunities that we are not giving them.
What is your experience in securing sponsorships?
I have a history in sponsorships. I brought up Amaco Volleyball Tournament, which was initially called Paul Bitok Tournament, to international standard. Two years ago, we hosted a team from the US and a few others from Uganda and Rwanda in Eldoret.
Last November, I introduced Heroes Tournament to honour legendary players, and I want to continue the same with the newly established Koitalel Samoei University (in Nandi).
As you prepare for the World Championship, what lessons do you bring from the Tokyo Olympics?
We brought in Brazilian coaches and although we did not immediately see the results in Tokyo, we hope to reap the fruits this year, during the World Championship.
We want to win matches and qualify for the second, for the first time in Poland.
With this kind of training and international exposure, we expect to do better at the World Championship.
What would be your legacy as you transit to administration?
Our team was being beaten by Cameroon but we won the African Games and getting the ticket to the Olympics improved our rankings. We became the best in Africa. From the World Championship, we are starting to build the future of the Kenyan women's volleyball team. The best players now are young. For example, Sharon Chepchumba is 24, Veronica Adhiambo, 21, is coming in to join experienced players like captain Mercy Moim. New setters coming for the World Championship are new.
What will you be doing in the event that you lose the elections?
I believe that I will make it to the KVF executive team. But if I fail, I will continue supporting the sport. I have an academy in Simat and I will continue nurturing talent there. I will also continue working as the technical advisor of the KCB Volleyball team. Africa also needs more leadership. Being an instructor of coaches, I will be visiting many countries.
Related Topics