Beach Volleyball: Kenya edge South Africa, Rwanda at Commonwealth games qualifiers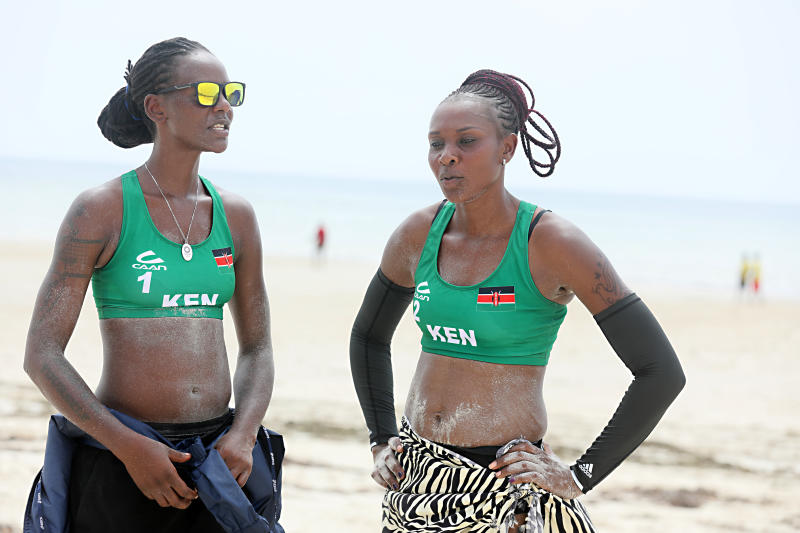 Kenya men's and women's beach volleyball teams on Saturday registered positive results as the 2022 Commonwealth Games qualifiers served off at the Laboma Beach Resort in Accra, Ghana.
National women's team defeated South Africa and Rwanda in their opening two Group B matches as they take charge of the group ahead of their last match on Sunday.
The Kenyan beach volleyball queens, who are ranked third in Africa, were drawn in Pool 'B' alongside Rwanda, South Africa and Mauritius
Women's pair Naomi Too and Veronica Adhiambo came from behind to defeat Rwandese pair of Munezero Valentine and Benitha Mukandayisenga 2-1(17-21,21-18,15-13).
In their second match, Too and Adhiambo extended the good run as they saw offSouth Africa
2-0 (21-16, 21-19).
Kenya will play Mauritius on Sunday in their final group match.
In the men's category, the Kenyan representatives registered mixed results after losing one match and winning the other.
The men's pair of Ibrahim Odouri and James Mwaniki surrendered a one set lead to fall 1-2 (21-14, 14-21, 15-11) at the hands of Gambia, who are ranked first in Africa in their first match.
The pair however recovered and defeated Zambia 2-0 (21-13, 21-09) in their second match of the day.
Kenya men's team will Sunday afternoon wrap up their group matches with a tie against South Africa.
Kenya are in a tricky Group B that has Gambia, Zambia and South Africa.