Melly and Chumba emerge winners in National Beach volleyball
VOLLEYBALL AND HANDBALL By James Omoro | October 26th 2021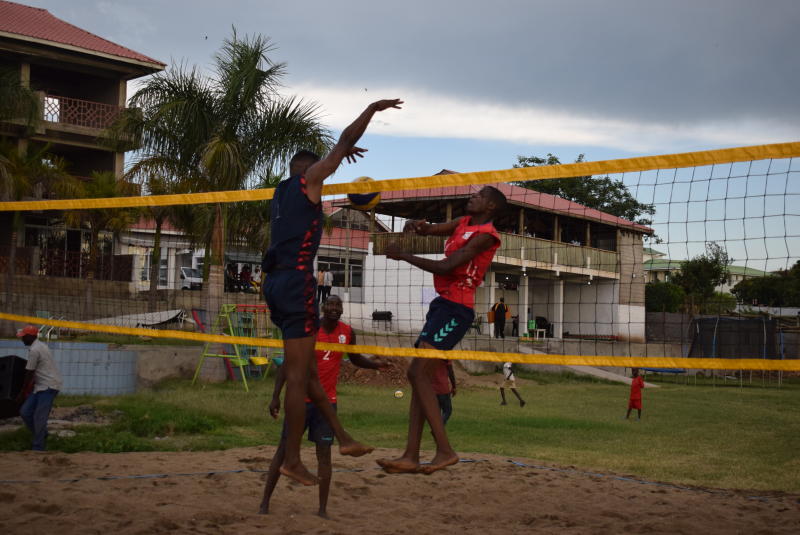 The pair of Brian Melly and Naftali Chumba are the winners of the male category in the first National Beach Volleyball competition played at the shore of Lake Victoria in Homa Bay County.
Beach volleyball is played by two teams on both sides of the net. Each team is made of two players compared to the conventional volleyball which has six players.
The competition held on Saturday and Sunday in Mbita town attracted 15 teams from various regions of the country. Eleven teams were men while four were women.
Melly and Chumba acquired the victory after beating the pair of Sila Makiso and Edward Kibet 2-0 (21-8, 21-16) sets in the final match played at Mbita Tourist Hotel.
Melly and Chumba reached the final after dismissing a team of Nicholas Lagat and Noah Bet 2-0 (21-7, 21-13) in a semifinal.
Makiso and Kibet entered the final after thrashing the team of James Muliro and Allan Kimurgor 2-1 (19-21, 22-20,15-8) in the semifinal.
The team of Gladys Wangui and Phosca Kasisi acquired victory in the women category in which matches were played through the round-robin.
The second position was taken by Maureen Wekesa and Imenza Mercy.
The pair of Marion Indeche and Joan Barasa, and that of Lilian Adoyo and Jane Agaya came in the third and fourth positions respectively.
The winners were presented with trophies and a packet of tea leaves for each participant.
There were also cash awards of Sh15,000, Sh8,000 and Sh5,000 for positions one, two and three teams respectively in both categories.
The Deputy President of the Kenya Volleyball Federation Charles Nyaberi, Chairman of Beach Volleyball Commission Moses Mbuthia and Homa Bay County Chief Officer for Sports Moses Buriri said they are going to collaborate in nurturing youths' talents to enable them to participate in the game which is new to many people.
"We have learnt there are many beautiful beaches in Homa Bay County which are suitable for beach volleyball," said Nyaberi.
He told many youths in the county to venture into the game
"I want to encourage youths in this area to play beach volleyball even as a recreational sporting activity. Beach volleyball is therapeutic and enhances body fitness," Nyaberi said.
Mbuthia said the next completion will be held in one month either in Machakos or Mombasa but the communication will be made later.
"We wish to have many volleyball beach tournaments in this region because of the admirable facilities," Mbuthia said.
Buriri said his department has started introducing youths to the new game.
"We want youths from Homa Bay to be part of teams which represent Kenya in international beach volleyball tournaments in future," Buriri said.
He expressed optimism that the tournament improve tourism in the county.
"Tourists from various regions of our country have toured our beaches and other tourist attractions. They have promised to return," Buriri said.