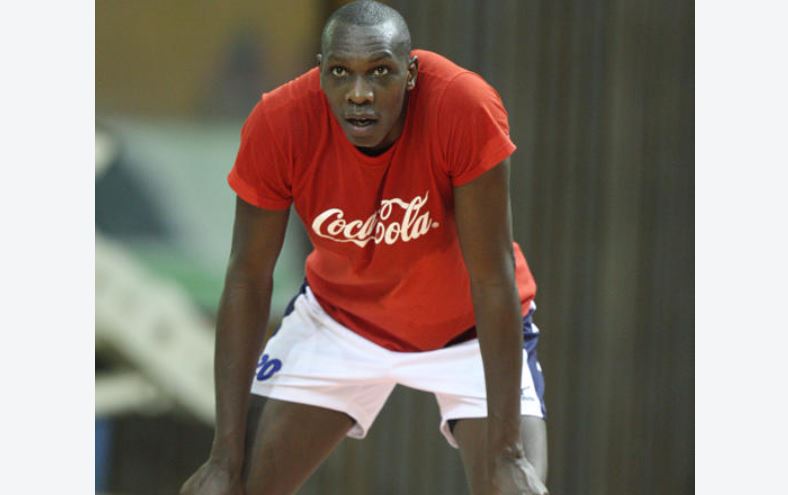 Kenyan international Michael Chemos has been forced to come out to dispel rumours that he has contracted coronavirus after returning from Israel, where he plays for top tier volleyball side Kfar Saba.
Though the former Kenya Prisons right attacker confirmed that he went into a 14-day quarantine upon arrival on March 18 as per the Ministry of Sports directive on all sportspersons returning from abroad, the reality of being in isolation has not been easy to swallow.
"I'm relieved to be quarantined at home than in a foreign country. It is really tough out there. After a week or so, I will know my status but there are some rumours that I came from Rome and I've tested positive. I don't know where those rumours are coming from," Chemos told Standard Sports.
"Let me set the record straight. I flew from Tel Aviv to Addis Ababa where I had my first test for Covid-19 and tested negative before proceeding to Nairobi. I then took another test in a private hospital the following day and the results were the same before I went into quarantine in my house. Therefore, let everyone treat those malicious reports with the contempt it deserves."
Even as he struggles to cope with his new way of life, the former Kenya Prisons star has expressed fear for his life after claiming that one of his close friends wearing a t-shirt with the name 'Chemos' was nearly beaten up by the public mistaking him for the player.
"Honestly speaking, these false reports claiming that I came from Italy are endangering my life because people can attack me thinking that I've brought the virus to Kenya. It is better they understand that I took the tests and I'm safe. I've not socialised with anybody since I returned. Even my family is scared of me and they relocated upcountry," explained Chemos.
"For your information, people nearly beat up my friend three days ago thinking it was me because he had a t-shirt with my name. They stopped him and asked him why he was walking around yet he is from a worst hit country (Italy). I feel stigmatised."
But while the isolation and the boredom have prevented him from continuing with his usual lifestyle as a sportsman, Chemos urged Kenyans to adhere to the government's directive by exercising social distancing and isolation as the night to dusk curfew started last night.
"Quarantine is really stressful, boring and expensive. It is more challenging for sportsmen because we are used to doing lot of movement as we train. I've been forced to improvise training equipment and work out in the house," he said.
"But it is better to keep safe than risk the people around you. You have to think about the community. My advice to those returning from abroad, just follow the government's guidelines and save lives.
"Some Kenyans are taking it for granted, but outside there, this virus is causing havoc. This virus is real, don't joke with it. If Israel itself has one of the best health facilities in the world and they are taking precautions, who are we not to follow government directives?"
Asked about his experience at Kfar Saba since joining them from Prisons, Chemos said: "I still have a running contract with the club. I was enjoying, both on and off the court, until the coronavirus broke out."