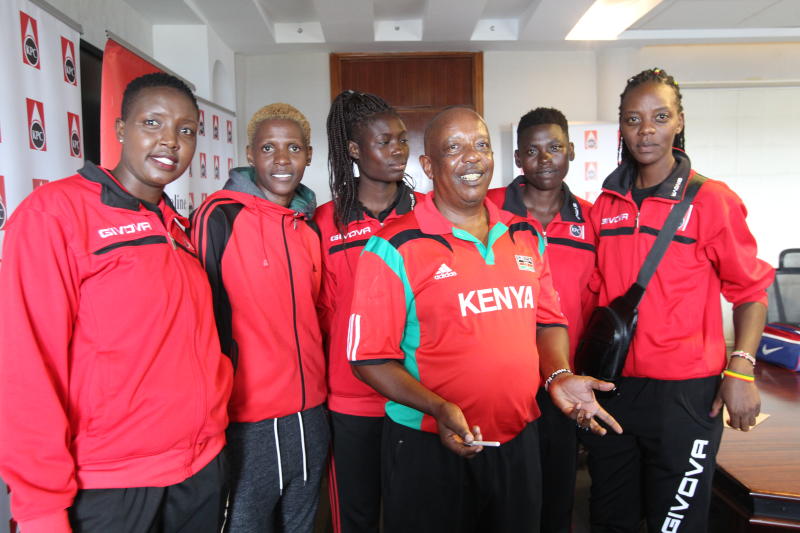 Captain Atuka says it is the beginning of greater things to come as Pipeline seeks to return to the top.
Kenya Pipeline yesterday unveiled former national women's volleyball tactician Paul Gitau as their new head coach.
SEE ALSO: How KPL veterans continue to defy age in the twilight of their careers
Gitau's appointment comes at a time when the former continental giants are looking to reclaim their lost glory locally and internationally. He beat seven other coaches among them former Malkia Strikers coach David Lung'aho and his predecessor at Pipeline Margret Indakhala whose contract ended last year.
He brings to the club a wealth of experience having coached KCB Bank Kenya with the highlight of his coaching career being a gold medal at the 2015 Africa Games with a second-string Malkia Strikers side. Kenya Pipeline Corporate Communications Manager Jason Nyatino said Gitau beat other candidates, who had applied for the job due to experience.
SEE ALSO: Liverpool's title win a 'gift that keeps on giving', says owner Henry
"We were looking for someone to help turn around our fortunes and I think that he (Gitau) is the right person for the job because he has over 20 years of experience," Nyatino said adding that the coach will serve on a three-year contract and is at liberty to appoint members of his technical bench.
Gitau's first assignment will be to prepare Pipeline for this year's Africa Club Championships and Kenya Volleyball Federation league.
SEE ALSO: Australian club that gave Usain Bolt football trial faces uncertain future
"I'm very happy my all-time wish has been fulfilled because I always wanted to coach Pipeline and so I'm ready to take up this new challenge and I promise to give my all so as to bring the best out of these talented players," Gitau said.
The 58 year-old said his main objective is to lead Pipeline's return to the top.
"I believe in the quality of the players and I know that they have what it takes to return to the top.
"Together we will work on improving on last year's third-place finish in both the league and club championships."
Pipeline captain Trizah Atuka, who missed the national playoffs due to injury urged her teammates to give the new tactician support.
"On behalf of the players, I welcome the new coach as we all look forward to a great season. I urge each one of us to accord him (Gitau) support work harder in training as we prepare to prove that we are still a great team."
The national volleyball league is expected to serve off next month.