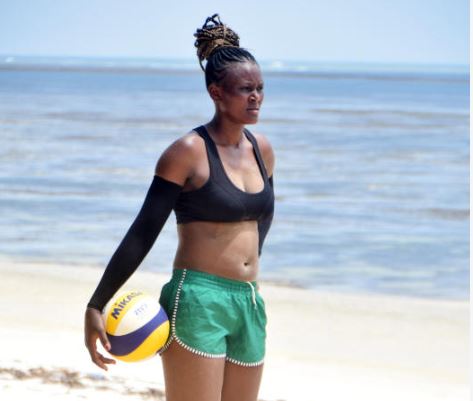 Kenya's national beach volleyball women's teams revived their chances of qualifying to the second round of the Africa Zone Five Tokyo Olympic Games qualifiers after flooring Tanzanian teams at Mbalamwezi beach in Dar as-salaam, Tanzania yesterday.
The two victories ensured Kenya remained in contention after registering mixed fortunes in the opening matches on Friday against Rwandan teams when the Africa Zone Five sub zonal tournament served off.
SEE ALSO: Sports Disputes Tribunal has jurisdiction over FKF, High Court rules
In yesterday's matches, Kenya One team that comprised Gaudencia Makokha and Brackcides Agala silenced Tanzania's Team Two of Kulwa Asedy and Nasra Msuya 2-0 (21-7, 21-4).
In the second match, Kenya's second team of captain Phosah Kasisi and Yvonne Wavinya dismissed Tanzania's of Zuhura Hassan and Junia Jovin 2-0 (21-17, 21-21-5).
SEE ALSO: We can shock many – Wanyama puts trust in new team Montreal Impact
On Friday, Makokha and Khadambi beat Rwanda's Team Two of Judith Hakizimana and Seraphine Mukantembara 2-1 (22-20,18-21, 15-8).
However, in the second match, Kasisi and Wavinya lost 2-0 (21-16, 21-18) to Rwanda's Charlotte Nzayisenga and Valentine Munezero.
SEE ALSO: Our players are not assassins - Serie A coach laments after 90 yellow cards
In the golden set to determine the winner of the match between Kenya One and Rwanda One, the latter narrowly won 15-13 to enhance their chances of winning the tournament.
Kenya will finish their campaign today with two matches with Makokha and Khadambi facing Uganda's Kauthar Kagoya and Juania Nabbuto before Kasisi and Wavinya play Uganda's team of Sadat Nnungi and Peace Busingye. The top two teams at the Mbalamwezi tournament advance to the second round.
"We still have the chance of making it to the second round despite the mixed results in opening matches," captain Kasisi said.
In other matches, Uganda Two beat Tanzania One 2-0 (21-16,21-6) while Uganda One dismissed Tanzania Two 2-0(21-14,21-8).
The last match of the tournament today pits Rwanda's Judith Hakizimana and Seraphine Mukantembara against Tanzania's Zuhura Hassan and Junia Jovia.
The Olympic Games qualifications is being played in three rounds.
After the conclusion of today's first leg, the second and third rounds are scheduled for next month and June, where the winner in each gender will grab the sole ticket to the Tokyo Olympics.
The first and second runners up at the continental qualifications will have the last chance to qualify for the quadrennial sports extravaganza at the World Championships.
Meanwhile, top-seeded Bahman Salemi and Arash Vakili had the experience, but youthful Alireza Aghajani and Javad Firouzpourbandpei captured the gold after defeating their Iranian rivals in the finals on Friday at the inaugural Dargahan Cup adds FIVB.
Seeded 12th in the FIVB World Tour event, the 21-year-old Aghajani and 22-year-old Firouzpourbandpei posted a 2-0 (21-17, 21-15) Dargahan Cup gold medal win in 34 minutes over the 30-year-old Salemi and 29-year-old Vakili to share the $1,000 first-place prize