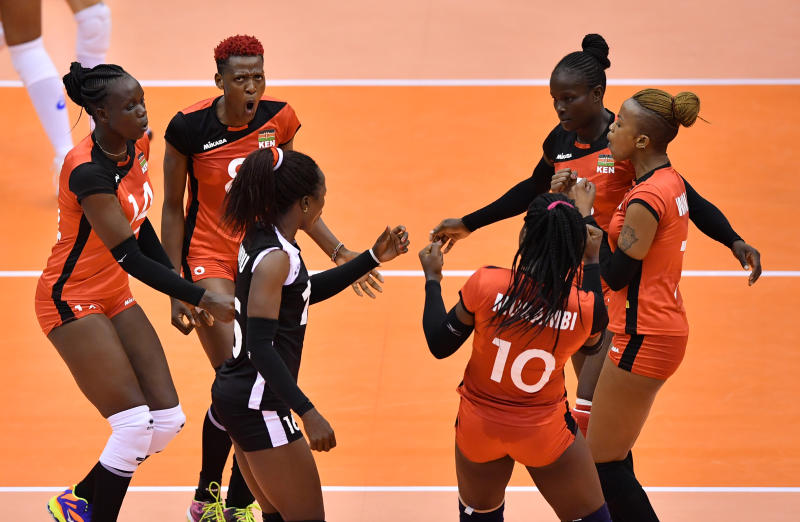 Kenya women's volleyball team Malkia Strikers are inching closer to the 2020 Tokyo Olympic Games after edging out the hosts Cameroon 3-2 in Yaoundé, Cameroon.
In their match against Cameroon, who bidding for their second consecutive Olympic appearance after finishing 11th at Rio 2016, Kenya took the first set 25-16, before the hosts turned their guns in the second set to win 25-23.
Kenya came out strong in the third set to win 25-21 before Cameroon's Lioness won the closely contested fourth round in 25-23.
Spearheaded by powerful left attacker Sharon Chepchumba, the Malkia Strikers started the decisive fifth quarter by storming to the early to win the quarter 15-11.
The match was Kenyans' third victory at the championships having swept aside Egypt 3-1 and topping against Botswana 3-0.
The win now put Kenya in vantage position for the Olympics slot against Nigeria, who are last in the log having lost 0-3 to Egypt and Cameroon respectively.
Kenya's Malkia strikers are now eyeing a return to the Olympic Games after a 15 year with their final match set to be against Nigeria on Thursday.
Kenya last met Nigeria at the 2017 Africa Championship where Malkia Strikers defeated the West African side 3-0.
Kenya featured at the 2000 Sydney and 2004 Athens Olympic Games, but failed to qualify for the Games in 2008 (Beijing), 2012 (London) and 2016 (Rio) events.
The Kenyan girls will be seeking a ticket to play at the Olympics Games in Tokyo in July.
Sets results between Cameroon and Kenya.
Set 1: CMR 16 - 25 KEN
Set 2: CMR 25 - 23 KEN
Set 3: CMR 21 - 25 KEN
Set 4: CMR 25 - 23 KEN
Set5: CMR 11 - 15 KEN