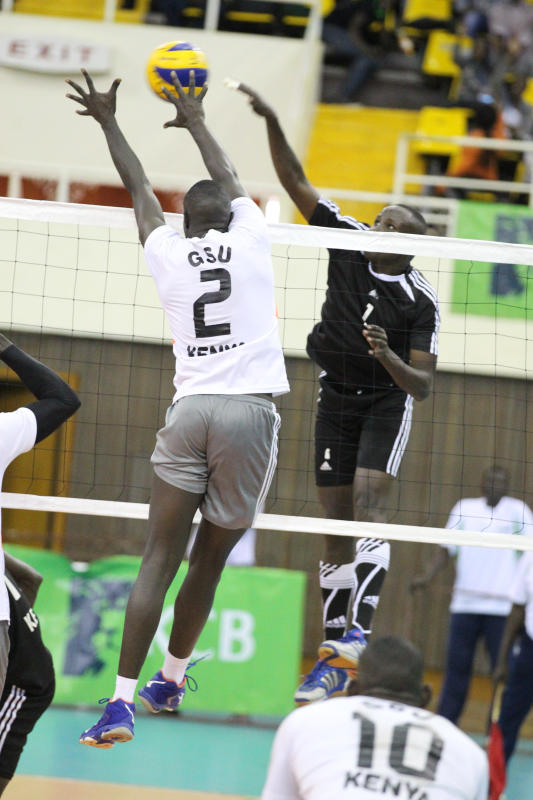 Champions General Service Unit (men) and Kenya Prisons (women) face a stern test of characteristics as they seek to defend their respective National volleyball league titles as curtains come down on the play-offs at the Kasarani Gymnasium today.
GSU are eyeing for their third consecutive title and a record fourteenth gong when they face off with Kenya Ports Authority, whose burning desire to lift the title will fuel an explosive showdown at 4pm.
This will come four hours after KCB, who last won their title in 2008, clash with holders Kenya Prisons in a decisive match. The bankers beat a depleted Kenya Pipeline by straight sets yesterday to set up another mouth-watering tie with Prisons.
All the four teams, GSU, KPA, Prisons and KCB have already secured a ticket to next year's African Club championship.
Just like GSU, who registered their second win of the tournament by overcoming Kenya Prisons 3-0 (25-21, 25-20, 25-20) yesterday, the porters disarmed Kenya Defence Forces 3-1 (25-17, 22-25, 27-25, 25-20) to set up an epic battle today.
Though GSU coach Gideon Tarus is wary of the threat posed by KPA, he is determined to defend the title.
"KPA have shown they are a good team but we are determined and ready to defend our title," Tarus told Standard Sports.
"It will be a very tactical game, but I'm not worried about them at all because I have strategy for them."
But for his KPA counterpart Samson, this is the best time to end their miserable jinx against the champions.
"It is my hope and prayers to beat GSU this time round because it has been a culture for them winning against us. We are on a mission which is to beat them and win the title," said a confident Sunguti.
"Of course, I have achieved part of my target which was to secure a ticket to the club championship. But right now, out target is to win the title. I know it is possible and we are going to make it. With the kind of training we have had, I'm very optimistic."
Prisons assistant captain Joy Luseneka is equally aiming to reclaim the title as they take on KCB at noon.
"We've been training hard for this tournament that's why I'm not surprised with our performance because that's the plan from the start. We know it will not be easy against KCB but we are going there full force," said Luseneka.