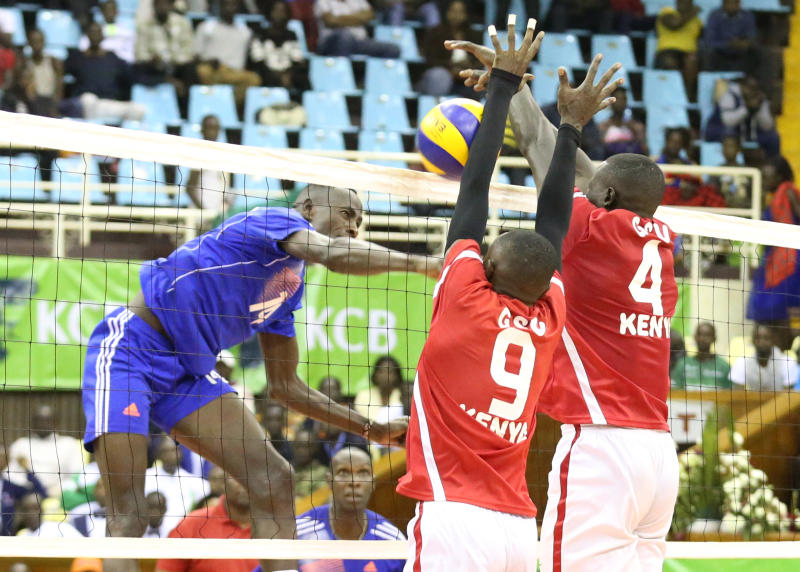 Champions General Service Unit (men) and Kenya Prisons (women) signaled their intent to retain their National Volleyball League titles by winning their respective matches of the play-offs at the Kasarani Gymnasium, yesterday.
GSU saw off a resilient Kenya Defence Forces 3-1 (25-14, 25-20, 23-25, 25-17) as Prisons overcame their arch-rivals Kenya Pipeline by straight sets of 25-19, 25-23 and 25-13.
SEE ALSO: Volleyball: Oduor reveals retirement plan and secret to staying at the top level for long
Josp Baraza's side lifted the title last year to end Pipeline's four-year dominance in the domestic scene and they were quickly back in the groove beating the oil merchants.
Pipeline are without their injured captain Trizah Atuka and their woes were compounded in the second set when stand-in captain Naomi Too also suffered a knee injury like Atuka after colliding with an opponent.
SEE ALSO: Volleyball: Coach Bitok backs Lusenaka to fill Wanja's void as he continues with his rebuilding process
Too was left writhing in pain on the court before she was stretched off and rushed to Nairobi Hospital, much to the disappointment of her teammates.
By the time youngster Betty Sifuna replaced the experienced left attacker, Pipeline were leading 21-19.
SEE ALSO: Livewire Lukaku leads Inter Milan to Europa League semi-finals
But with their star-studded and experienced squad of Malkia Strikers captain Mercy Moim, Elizabeth Wanyama, Edith Wisa, Joy Luseneka, Immaculate Chemtai, Joan Chelagat and Braxcides Agala, the wardress capitalised on Too's injury to rally and win the set 25-23.
It was even easier in the third set as Prisons led from the start to claim a 25-13 victory.
Even as Prisons face off with the Directorate of Criminal Investigations today, Baraza believes with yesterday's composed display against Pipeline, they have every chance to retain the crown.
"Definitely the win against Pipeline has put us in a better chance to defend the title. Pipeline gave us tough times at the start, but we stuck to our game plan and it paid off. Every department clicked," Barasa said.
"I didn't expect to win by straight sets because previously the scoreline has always been tight. We were mentally prepared for this match because it was like final a for us but I am glad experience did magic for us.
But for Pipeline coach Margaret Indakala, Too's injury and inexperience cost them the match.
"We started off quite well, but my players couldn't cope up with the Prisons' experience. And just when we thought we were back into the game, Too suffered a knee injury. It made it difficult for my team as we collapsed," Indakala said.
Coach Japheth Munala, whose side KCB saw off DCI 3-0 (25-15, 25-20, 25-11) yesterday, reunites with his former side Kenya Pipeline as the clubs clash at 4pm today.