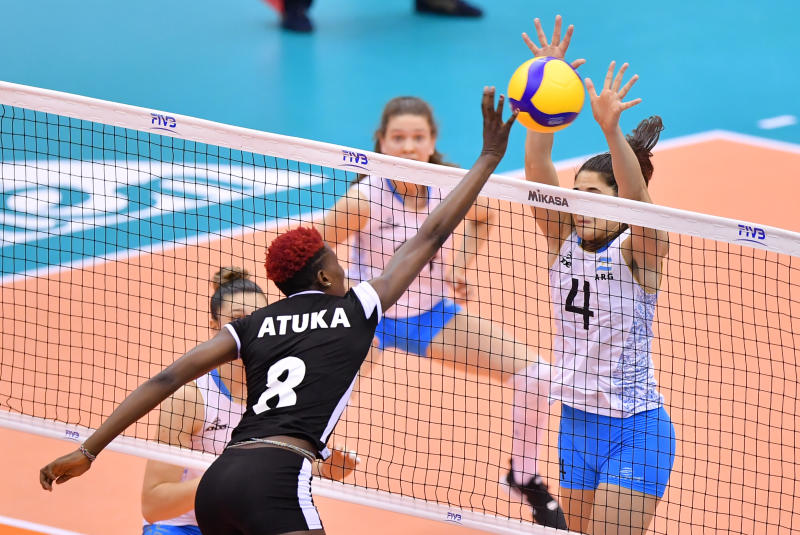 Malkia Strikers middle blocker and Kenya Pipeline captain Trizah Atuka is set for a lengthy spell on the sidelines after rupturing Anterior Cruciate Ligament (ACL) in her left knee during last weekend's final leg of the Kenyan Volleyball Federation league in Kapsabet.
Atuka had to be replaced at the beginning of the second set of their Group A match of the Nandi County Tournament against KCB 'A' on Saturday after colliding with an opposing player.
The 27-year-old Mukumu Girls alumnus suffered the injury barely a day after inspiring the former Kenyan champions to next month's (November 22-24) national playoffs at Kasarani Gymnasium.
Atuka, who will undergo surgery on Saturday followed by a long period of rehabilitation, is likely to be ruled out for nine months.
The injury comes as a huge blow for Atuka as she will miss the upcoming league playoffs for the second season running, the African qualifiers for the 2020 Tokyo Olympics Games set for January 4-9 next year in Cameroon as well as the African Club Championship.
Last year, Atuka watched from the terraces at Kasarani as the Embakasi-based side relinquished their title to rivals Prisons Kenya after she was sidelined for five months following surgery.
"The MRI scans report have shown a complete tear of the ACL which requires at least a surgery to repair it. I've been booked in for surgery on Saturday," Atuka said.
"It is a very painful and sad experience, but I will have to live by it. From the doctor's report, I won't be able to play for a long time. The doctor told me I will be out for at least nine months and that my comeback will depend on my progress in rehabilitation.
"Of course my dreams of playing at the play-offs, club championships and Olympics have all been shattered, but I leave everything to God. I hope to come back stronger and better."
But even if Malkia Strikers qualify for the Tokyo Olympics slated for July 24-August 9 Atuka's chances of making it to Japan are very slim.
In most cases, players returning from ACL operations are generally sidelined for between six and nine months, with some taking a year to return to fitness.
"I just encourage my club to still go for the title in the play-offs and the national team to make their Olympics dreams come true."
Meanwhile, eight women's teams have confirmed their participation in next year's (January 4-9) African Olympics qualifiers in Yaoundé, Cameroon. They include Cameroon, Kenya, Algeria, Egypt, DRC Congo, Botswana, Ghana, and Nigeria.