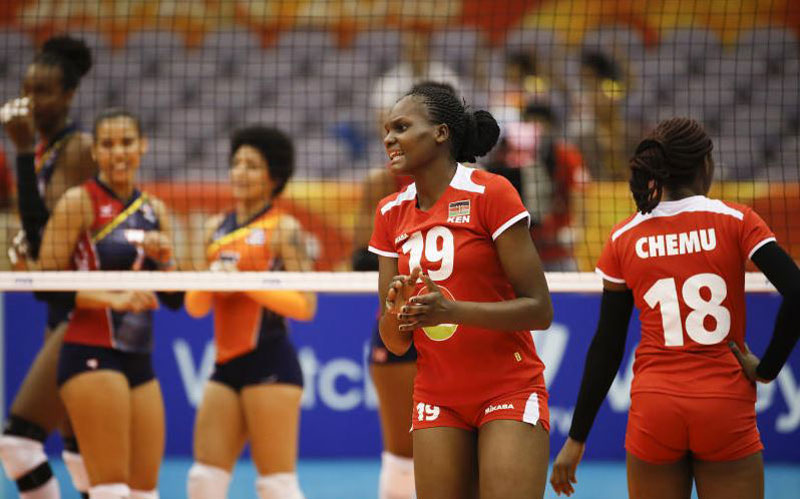 National women's volleyball team Malkia Strikers produced arguably one of the greatest comebacks in their history to beat African Nations Championship holders Cameroon 3-2 (18-25, 16-25, 27-25, 29-27, 15-12) in a thrilling final Group B match in Cairo, Egypt on Thursday night to qualify for the semi-finals with an unbeaten record.
It was sweet revenge for Malkia after they lost by straight sets to Cameroon in the 2017 continental finals in Yaoundé, barely a year after the West Africans had denied them a ticket to the 2016 Rio Olympics Games.
With the dramatic victory, the record African champions will now battle Senegal in the semi-finals today as Group A winners Egypt entertain Cameroon.
It was a performance that spoke volumes of the character, resilience, desire and determination in a team that has received less support from the government.
The memorable night at the 6th October Hall discovered some unlikely heroes in Leonida Kasaya, Edith Wisa, Immaculate Chemtai, Violet Makuto, Noel Murambi and Trizah Atuka, who replaced the starting six after losing the first two sets (18-25 and 16-25).
Coach Shailen Ramdoo's tactical tweak gamble paid off as the Cameroonians failed to match the technical quality and team-play from his substitutes.
"That's a good result. It was a tough game. We started off very slowly compared to Cameroon. They thought they had it, but luckily we made some changes and the key players completely changed the game. We then took the game to them, controlled it and finally managed to win it," said Ramdoo after the match.
"I'm very happy for the whole team, everybody did their part. So, let's see what happens in the semifinals against Senegal.
" It's my hope we can enjoy our rest day tomorrow (Friday) and use this momentum as energy and motivation for the next match."
Kenya Volleyball Federation Technical Director David Lung'aho was equally pleased with the team's character.
"Honestly speaking, we won the match after the unexpected substitutions. Cameroon had frustrated our first choice team, but once we brought in the substitutes everything changed," Lung'aho told Standard Sports.
"Kasaya was unstoppable, Wisa's blocks were up to date and Chemtai looked huge on the line block. I mean, it was real coordination and fighting spirit."
Celebrated setter Jane Wacu said the 'unbelievable' victory has earned them respect from the Cameroonians.
"After the first two sets, we knew it was over, but we showed character coupled with the changes to make a comeback and earn respect from the Cameroonians," said Wacu.
"From the performance, I can forecast us meeting Cameroon in the final again. But I can assure our fans back home, we are not going to let them down. We will bring this trophy back home."