Kenya, Egypt to face off in crunch tie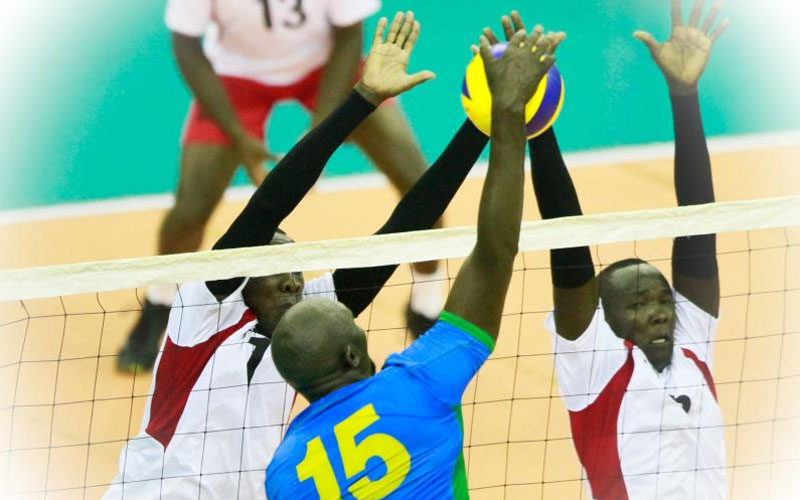 Former Kenyan international Paul Bitok returned to haunt his home country, dashing Kenya's All African Games qualification hopes after his Rwandese side thrashed them by straight sets (26-24, 25-23,26-24) at Kasarani Gymnasium yesterday.
This was definitely one of Bitok's greatest achievement in decade-long coaching career with the Rwandese team as he prepares his return to Kenya after the expiry of his current contract in the next few months.
The home fans were left heartbroken as the Rwandese team made their team look so ordinary, capitalizing on their basic errors like poor reception, service and blocks to win the match in straight sets.
The images of Kenyan players falling flat on their face and holding their heads in their hands could only show their disappointment.
They never expected it to happen more so against Rwanda whom they beat 3-1 on their way to lifting their regional title in Kigali two years ago.
"Definitely, our qualification chances have been dashed. It is near impossible to beat Egypt by three straight sets in our final match. We collapsed and lost formation when it matters most after the 20 point mark," said Kenya coach Moses Epoloto.
"We fumbled and allowed Rwanda to control the game. But it's not over yet, this is a youthful team with a bright future."
But even after dashing Kenya's chances, Bitok is hoping his countrymen can do him a favour by upsetting the Pharaohs when the two sides clash at 4 pm today.
"I'm really sorry about what has happened to Kenya. It's always emotional to play against my home team. But having watched them play before, I knew how to handle them. We neutralized their attacks and capitalized on their poor reception. Our tactical superiority and ability to allow more players to go to play abroad won us the match," said Bitok.
Rwanda were in a class of their own dominating the game save for the second set which they rallied from 16-11 to claim the set 25-23.
It was a day that everything in the Kenyan team failed to click with experienced setter Brian Melly, captain Jairus Kipkosgei and left attacker Nicholas Matui all crumbling.
While Kenya stumbled, their today's opponents Egypt chalked up their second win in the competition after overcoming Uganda (25-17, 15-25, 25-14, 25-20).
But after watching two of Kenya's matches, Egypt coach Gido Vermeulen has labelled the quartet of experienced attacker Michael Chemos, Brian Melly, captain Jairus Kipkosgei and Nicholas Matui as a threat to his side.
"Of course, Kenya remains one of the tournament's favourite. They are physically strong with a good set up and a couple of talented players," said Vermeulen.
"They have four quality players with international standard and we know how wounded Kenya are, so we've to prepare very well for this game. They are a stable team and can play different systems.
"We have had two difficult days because of Ramadhan but since it's over I expect my players to go into this match energized and give their best. This is a massive game for both teams, but I believe we've had enough rest and the boys are ready to finish off the job."
The winner of the four-team round-robin tournament that began on Monday will secure the sole ticket to the continental showpiece in Rabat.
Yesterday's results
Egypt 3-1 Uganda
Kenya 0-3 Rwanda
Tomorrow's fixtures
Uganda v Rwanda - 2 pm
Egypt v Kenya - 4 pm