Kenya Pipeline romp into semi-finals after defeating Egypt's Sporting Club
VOLLEYBALL AND HANDBALL By Game Yetu | March 23rd 2019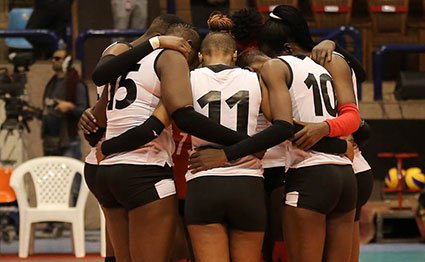 Kenya Pipeline volleyball team has romped into the semi-finals of the 2019 Africa Club Championship being held in Cairo Egypt.
The oil merchants dismissed Egypt's Sporting Club 3-1 of 25-19, 25-27, 25-12 and to be the only team from Sub-Saharan Africa still standing in the competition.
Margaret Indakhala charges warded off the underdogs tag that characterised their appearance at the tournament.
The Industrial area based side lost seven players to arch-rivals Kenya Commercial Bank.
Speaking after the match, captain Triza Atuka said they had watched Sporting play twice and mustered their weakness.
"We realised their centre was inactive and therefore concentrated on scoring from the point," she said.
Indakhala says the task now is to plan for the next opponent.
"We are taking one game at a time," she said.