KVF confirms teams set to battle for glory at play-offs
VOLLEYBALL AND HANDBALL By Ben Ahenda | October 21st 2018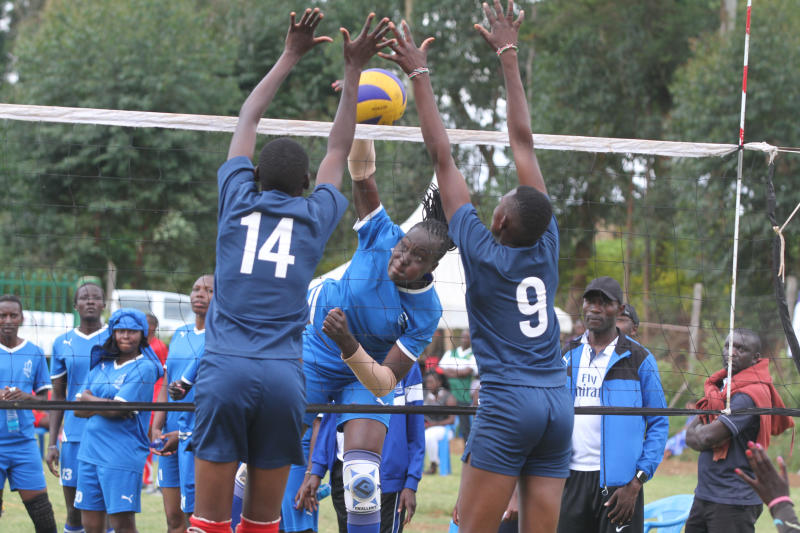 The teams that will battle for the Kenya Volleyball Federation league title national been confirmed.
The eight sides will square it out in the play-offs at Kasarani Stadium on November 30 to December 2.
League winners General Service Unit with 44 points, Kenya Prisons (40), Kenya Ports Authority (39) and Kenya Defence Forces (37) who emerged in top four positions as the national volleyball league ended at Afraha Open Grounds in Nakuru on Friday will battle for the men league title.
In their final preliminary match, GSU beat KPA 3-0 (25-22, 25-18 and 25-19) to maintain their unbeaten run. KPA humbled Administration Police 3-1 (25-13, 25-17 24-26 and 25-16) as the policemen edged out Western Prisons 3-2 ( 23-25, 25-23, 22-25, 26-24 and 15-9) to secure a spot in the play-offs.
League champions Kenya Pipeline topped the women standings with 27 points ahead of Kenya Prisons (23), Bungoma County (18) and Kenya Commercial Bank (18) after a round of nine matches with sets aggregate separating the last two teams.
Before booking their ticket to the play-offs, Kenya Pipeline defeated Kenya Prisons 3-1 (25-23, 25-19, 23-25 and 25-19) to remain unbeaten.
In their penultimate match, the oil merchants beat Kenya Commercial Bank 3-0 ( 25-16, 25-22 and 25-15).
It was a sweet victory for Kenya Pipeline who lost to the bankers in Makueni Open last month.
Coach Japheth Munala said: "I'm glad we qualified for the play-offs."
Meanwhile, the county teams from Vihiga, Bungoma, Kericho, Kiambu and Bomet performed dismally in the league championships and finished at the bottom of the table standings compared to institutional sides who appeared in men's top ten places.
The conclusion of the league championships paved way for the Nakuru County Volleyball Championships, which served off at the same venue yesterday.
In the first matches of the Nakuru County Championships, Kenya Prisons beat AP Kenya 3-0 (25-21, 25-23 and 25-19 before dismissing Kenya Commercial Bank in straight sets of 25-21, 25-19 and 26-24).
In schools and colleges championships, Moi University defeated Eastmore 3-0 (25-8, 25-6 and 25-17 while Afraha High School beat Kaiser 3-0.
KDF stage brilliant shows in Mombasa
Kenya Defence Force reigned supreme to extend their lead during the third leg of the national boxing league at Uwanja Wa Mbuzi grounds in Mombasa. Th