Volleyball: Wacu reveals her ideal man and why she misses ugali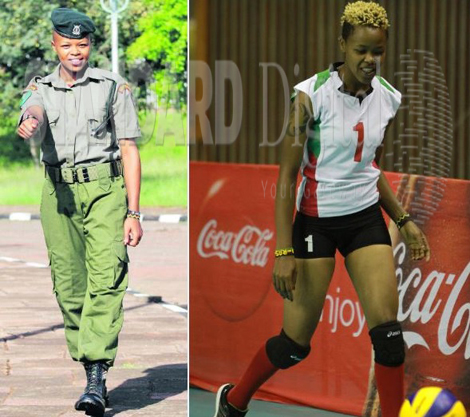 Sergent Jane Wacu (L) . ..(R) Volleyball star Jane Wacu during a previous match at Kasarani.PHOTO/DENNIS OKEYO
Jane Wairimu Wacu is arguably one of the best setters in the country at the moment. Game Yetu's Rodgers Eshitemi discussed with the 28-year-old Kenya national team and Chamalières player about her French Division Two League experience and what she hates in men.
Game Yetu: To start with, have you adapted to life at your new club, Chamalières?
Wacu: I am enjoying my life here. My good understanding with the coach and the players has really helped me settle down quickly.

Game Yetu: How is your French language skills at the moment?
Wacu: French is not an easy language, but with the assistance of a translator I can now understand a bit of both spoken and written French.

Game Yetu: How has been your experience in the French Division Two League?
Wacu: This is a great step in my career as the league can be compared to the club championship competition in Africa. It feels good at the moment and I think I'm going to have ample time to really enjoy this experience during my stay.

Game Yetu: Apart from you and Brackcides Khadambi are there any other blacks at Chamalières? How do rival fans react during a match?
Wacu: Yes, we've three Cameroonians in the team and fans are very disciplined-they only support their team.

Game Yetu: And how is Brackcides Khadambi fairing on?
Wacu: Mmmh!! It's unfortunate 'Blacky' is injured, but we expect her to be back after two weeks.

Game Yetu: How can you compare the French and Kenyan volleyball?
Wacu: I think Kenyan standards are high. Our design of play is similar to the Japanese style unlike French who play an open game.

Game Yetu: What have you learned for the short time you've been in Europe?
Wacu: I have learned a lot. My reception is now perfect, also learned new styles of setting and do la musculation (gym work) three times a week.

Game Yetu: Are you in a relationship and how soon are you going to settle down?
Wacu: I am not into any relationship at the moment. I am single, but not searching.

Game Yetu: What do you miss about home?
Wacu: I really miss my mum, siblings, friends, food and clubbing at most. At some point, I feel home-sick.

Game Yetu: So, which type of food in particular do you miss and how are you coping with the new diet?
Wacu: I think Kenyan food is the best in the world. I miss Ugali so much. They've rice and yellow-ugali, but they are just pathetic.

Game Yetu: You look superb, how do you maintain your figure and how do you handle attention from men?
Wacu: I've a fitness routine at the gym and healthy eating regime that helps me keep fit. Of course men must chase a lady and that's an avenue to get a husband, but being a public figure I am always courteous.

Game Yetu: What do you hate in men?
Wacu: I can't tolerate men with falsehoods (liars) or drunkards.

Game Yetu: In 2011 at the All African Games in Mozambique you got a lot of attention from your opponents Seychelles after the match. Can you explain to us what transpired?
Wacu: That's history and I can't comment on it.

Game Yetu: How did you juggle between volleyball and work (Prisons sergeant) while still in Kenya?
Wacu: I was employed in the Prisons department...so it's all about Prisons. But when not working, it's always in the pitch.

Game Yetu: If not playing volleyball, what would you be doing?
Wacu: I am an athlete by blood, so I would either be playing football or running.

Game Yetu: With you, Khadambi and Mery Moim (Liiga Ploki, Finland) playing in Europe. Do you think Kenya has talent to play professional volleyball?
Wacu: Yes, we've great players back home and with good structures we can export more to Europe.

Game Yetu: You have been described as a stylish player and look alike with Janet Wanja. Are you related?
Wacu: I just love being simple nothing stylish. We look alike, but I am not related to Wanja in any way. We are just teammates and good friends.

Game Yetu: Last but not least, what's the most weird thing you ever done on the pitch?
Wacu: I once kicked the ball very hard with my feet because I was annoyed.