HISTORIC VICTORY: Kenya record first win outside Africa with conquest of Mexico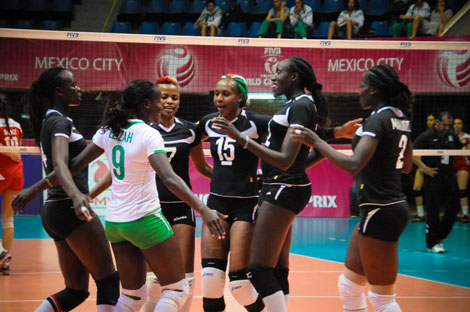 Kenya celebrate a point against Mexico during thw FIVB Grand Prix volleyball
Kenya National volleyball women's team finally ended the jinx of not winning a match outside Africa after they beat hosts Mexico in their opening Group Three Pool Q match of the 2014 FIVB World Grand Prix on Sarturday.
Kenya beat fellow Grand Prix debutants Mexico 3-1 (25-18, 25-23, 18-25, 25-22) in Pool Q in Mexico City to become first team from Africa to win a match in the competition.
Algeria, who are the second African team in the competition, lost their first match after going down 2-3 (15-25, 25-22, 18-25, 25-23, 17-19) against Bulgaria at same venue.
Mercy Moim of Kenya topped all scorers chart with 22 points while Captain Bracksides Khadambi and Lydia Maiyo contributed 12 points apiece. Rios contributed 15 points for Mexico.
Kenyans were thrilled considering that a victory has had eluded the team since it was formed in 1986.
"We can't be more thrilled debuting in a major international event with a victory. The team gains a lot of confidence looking into what lies ahead for us," Kenya coach David Lungaho said.
"I believe Mexico as host had more pressure and it could have affected their presentation. They are very aggressive and I especially liked Lizbeth Sainz' performance."
The Kenyan skipper, Khadambi was elated with the team's performance. "We played well. The team played in a good mood and we are happy with the win," she said.
Kenya Volleyball Federation chair Waithaka Kioni expressed joy over the historic victory. "That's great news. Let's hope and pray the team remains focused and wins more matches," he said.
But the Mexico coach, Jorge Azair, admitted that their team was not at its best. "We definitely didn't play our best. The team was too relaxed without consistency in our serves or blocks, while making it easier for Kenya to score and stay in control."
During the first set, Mexico struggled for chemistry between their setter and attackers, with Kenya taking advantage in the blocking to reach both technical time outs on top.
Kenyans took the first set 25-18 in a strong opening set performance. They enjoyed good work from Khadambi, Maiyo and Moim and took the lead in the second set.
Despite Mexico's improved efforts, Kenya regained the ascendancy and although Mexico held off two set points, Kenya won the second set 25-23.
Mexico worked around Kenya's block early in the third to lead 6-1 and pushed the scores to a 11-4 lead before taking the set 25-18.
The fourth set was very tight but Kenya's attacking prowess came through and despite Mexico saving two match points, Kenya won the set 25-22 to take the match 3-1.
Kenya out blocked Mexico 11 to 8 and they were more effective in kills by 53 to 48.
Kenya were scheduled to play Bulgaria yesterday and meet Algeria today. [email protected]
Positive start
Kenya got off to a flying start in the second leg of the IRB Sevens World Series by overcoming Portugal 10-7 and France 14-5 before going down to New Zealand 40-0 in their last group match.