Samurai wins Soldier's Salute Cup
UNIQUE SPORTS By Ben Ahenda | January 24th 2022 | 2 min read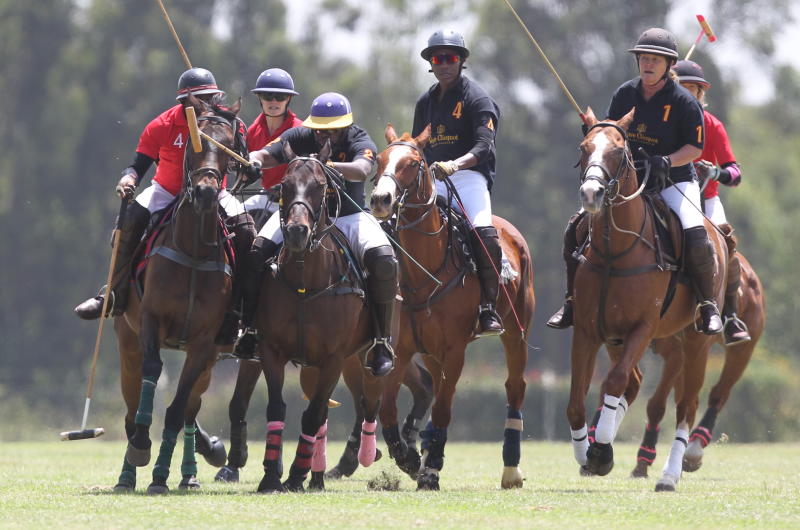 Captain Raphael Nzomo and Louis Roumeguere propelled Samurai to a 7.5-3 win over Team 24:7 to emerge as Soldier's Salute Cup champions at Nairobi Polo Club yesterday.
Nzomo scored a hatrick and Roumeguere a double to put the match beyond the reach of their opponents after Hiromi Nzomo had earlier scored the second goal in the first chukka.
Samurai will have to thank the efforts of handicap -15 Eva Kamau who restricted their opponents from their territory but faulted three times to allow Team 24:7 to score through Jules Camm, Phillip Arunga and Silke Hampson.
As Samurai defeated Team 24:7 3.5-3 in the final, Tanqueray won the Subsidiary Championships.
Tanqueray defeated Jacaranda 4-1 in the final of the two-match round-robin series to clinch the title thanks to their top scorer handicap -2 Kelvin Jumba, who was on top of the game and emerged as the Subsidiary Championships' top scorer with four goals. He scored two goals yesterday.
"It was a good weekend for me but by the efforts of the whole team, they helped me be the top scorer," Jumba said.
Earlier, in the final round-robin matches of the senior competition (Soldier's Salute), Ultimate finished tops to scoop the third spot after winning two of her last matches against Tusker Malt and Radio Africa.
Ultimate blasted Tusker Malt 1.5-1 and thereafter defeated Radio Africa 2.5-2 to fall behind eventual champions Samurai and losing finalists Team 24:7 after starting all her matches at the advantage of half fraction of a goal from their low handicap.
Ultimate scored their goal through hard-fighting Natasha Tisminieszky against Tusker Malt, who scored in the first chukka before handicap 2 Vishal Somaia replied for the losers in the same chukka.
Handicap 2.5 captain Mbu Ngugi and Tisminieszky scored the two goals to secure a 2.5-2 victory against Radio Africa, whose consolation goals came through Johnson Asenganand Phylippa Gulden in the four-chukka matches played on two intervals.
New season, same old Shujaa
Kenya Sevens kicked off the third leg of the HSBC World Rugby Sevens Series on a low note after performing poorly during the Malaga Sevens leg played