Tusker Malt drown Ultimate in Davis Cup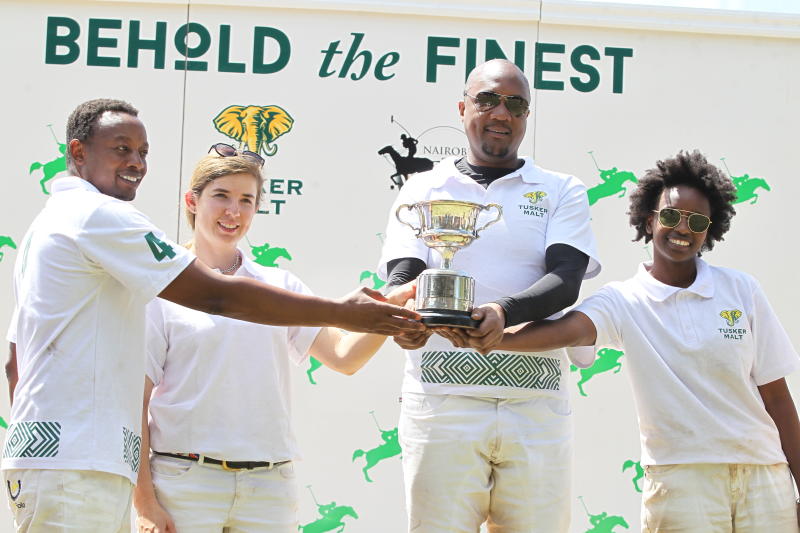 From the first to the last match, it was evident Tusker Malt were headed for the title.
Eventually, they triumphed in the Davis Cup champions after defeating Ultimate team of international Jadini Nzomo (1), Izzy Stichbury (0.5), Jamie Hayward (0.5) and Rowena Stichbury (0) 6-4 in the final at Nairobi Polo Club, on Sunday.
A hatrick by Raphael Nzomo and a double by Natasha Tisminieszky and Simon Muchene's effort was all Tusker Malt needed to blast Ultimate 6-4 and win the first tournament of the year.
"It was good way of starting the year and we hope to proceed like this," said Hiromi Nzomo of Tusker Malt.
While playing against his father (Raphael Nzomo) in the final, handicap 1 Jadini scored four goals in the first, second (two) and third chukkas to emerge the top scorer of the tournament.
Hiromi, who played together with her father Raphael, Simon Muchene and Tisminiieszky (Natasha) in the Tusker Malt team, was voted the Most Valuable Player of the tournament.
"It's my pleasure to have emerged the best player and it's through hardwork and teamwork that made us emerge victorious," Hiromi said.
International Casimir (Gross) was honoured for his comeback in the opening championships of Kenya Polo Association calendar of events after missing last season's ending tournaments at Manyatta Polo Club in Gilgil in December.
"It is a pleasure to have Casimir back to the fold having missed last season's ending tournaments in Gilgil," said Nairobi Polo Club vice chairman Fredd Kambo.
In the Losers' Plate Final, handicap 2.5 Radio Africa secured a 4-2 over Team 24:7 to emerge victorious.
Related Topics