Officers end the year in style at shooting contest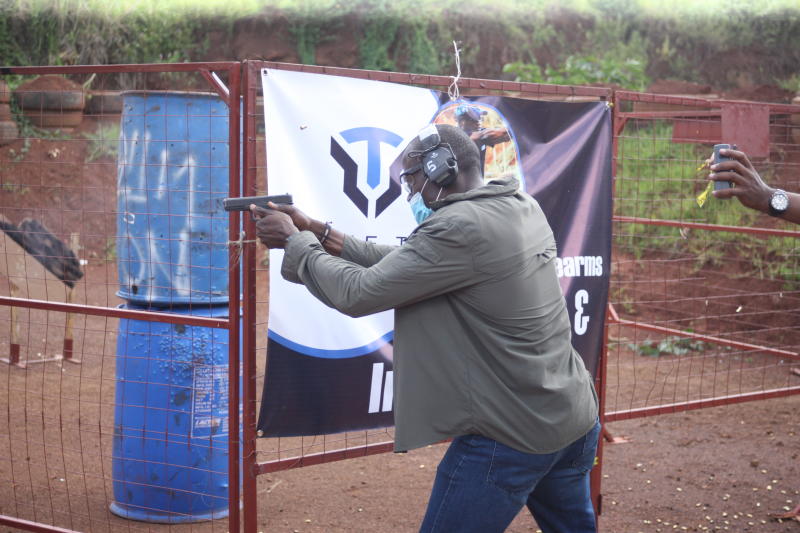 A total of 107 shooters battled it out for top honours at the first-ever IDPA Disciplined Forces (DF) only shooting competition, which took place on Saturday at the Kirigiti shooting Range in Kiambu County.
Officers from the DCI, ATPU, GSU, KDF, AP, Kenya Prisons, NIS, KWS, NYS and Presidential Escort are among those who were represented at the end of the year contest.
DF Masters stole the show with master Daniel Mutiso of Kenya prisons lifting the Senior High trophy, Master Samuel Chacha of GSU scooped the ESP High while Master Mike Kiptanui DCI - ATPU, came in second.
Other division winners were Peter Kiveleeti-SSP High, Stanlus Masha CCP High, James Ekaale Law Enforcement and PCC High, Onesmus Koech- REV High, Bonvas Momanyi- Military High, Agness Wangeci- Lady High and Benjamin Muema most accurate.
The contest which was organized to give thanks to the members of the Defense Forces and services for playing a big role in the growth of sports shooting in Kenya, saw more than 20 sponsors come on board to support the course.
"For a very long time, there has been a perception that members of the Disciplined Forces and civilians cannot interact," said event organizer and Match Director Sammy Onyango
"We as civilians approached the Inspector General of Police Hillary Mutyambai and DCI George Kinoti and shared the Disciplined Forces (DF) only shooting sports idea with them.
"Out of their blessings, we were able to pull this competition together. It has been a good start."
Eng. Onyango disclosed that sometimes when you talk to the members of the disciplined forces, they say that their stress levels are high."
Therefore, an opportunity like this is good for them to interact among themselves and unwind.
According to one of the contestants, Chief Inspector of Police Alvince Osura who was recently bestowed with Head of State commendation by President Uhuru; the DF synergy helps in sharing of information and intelligence.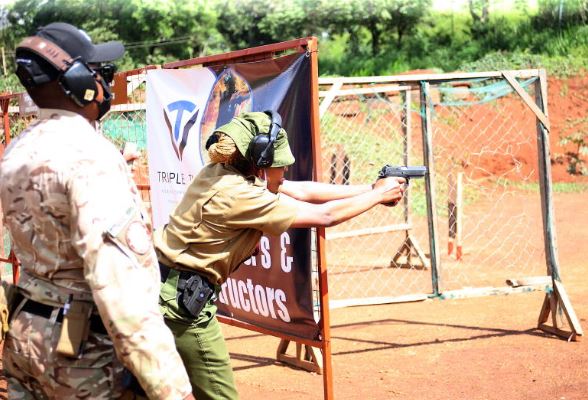 This he says is what has helped in the war against terrorism and crime through the spirit of multi-agency operation among the security organs.
Osura added that such a sport develops proficiency among the firearm holders so that they do not get into cases where lives are lost unnecessarily because of poor training.
"The competition was a success because it was free of incidents or injuries. That indicates that the level of professionalism is really high," said Osura.
"There is also a relaxed kind of atmosphere. People are composed and there is proper handling of weapons. Something that has never been seen before in this country."
Urging Kenyans to be very vigilant during the festivities Osura added that: "If you see anything suspicious please report to the nearest police station so that we can be able to take measures.
"As you celebrate, know that the police officers will be on standby. Merry Christmas and Happy New Year."
DIVISION WINNERS

SSP HIGH- Peter Kiveleeti
ESP HIGH- Samuel Chacha
CCP HIGH- Stanslus Masha
PCC HIGH- James Ekaale
REV HIGH- Onesmus Koech
SENIOR HIGH- Daniel Mutiso
MILITARY HIGH- Bonvas Momanyi
LAW ENFORCEMENT HIGH- James Ekaale
LADY HIGH- Agnes Wangeci
MOST ACCURATE Benjamin Muema

*MASTER CLASS *
SSP DIVISION
1. Daniel Mutiso

ESP DIVISION
1. Samuel Chacha
2. Mike Kiptanui


*EXPERT CLASS *

SSP DIVISION
1. Peter Kiveleeti

ESP DIVISION
1. Mohamed Aden
2. John Asaju

SHARPSHOOTER CLASS
SSP DIVISION
1. Belinda Akoth
2. Joshua Vundi
3. Moses Rono

ESP DIVISION
1. Agnes Wangeci
2. Nicholus Mijema
3. Mohamednoor Ahmed

CCP DIVISION
1. Stanslus Masha
2. Julius Mwaniki

PCC DIVISION
1. James Ekaale
2. Adan Barrow

MARKSMAN CLASS
SSP DIVISION
1. Irene Wanjiku
2. Bonvas Momanyi
3. Brenda Ajiambo

ESP DIVISION
1. Peter Odindo
2. Joel Lesikamoi
3. Priscilla Mburu

CCP DIVISION
1. Laban Mutembei
2. Suleiman Bwengo
3. Elizabeth Wachianga

PCC DIVISION
1. Alvince Osura

*NOVICE CLASS *
SSP DIVISION
1. Alice Njuguna
2. Jeremiah Doki
3. Denis Meeme

ESP DIVISION
1. Reuben Mwarigha
2. Francis Kinyua
3. Paul Mwihia

CCP DIVISION
1. Joyemily Nyaga
2. Margaret Muthoni
3. Anne Obara

PCC DIVISION
1. Patrick Milimu
2. Benjamin Muema
3. Dennis Kairu

REVOLVER DIVISION
1. Onesmus Koech
2. Joel Waroi
3. Kelvin Kiprotich