Electrifying speed earns Ibrahim Ndung'u top spot at IDPA Chairman's Cup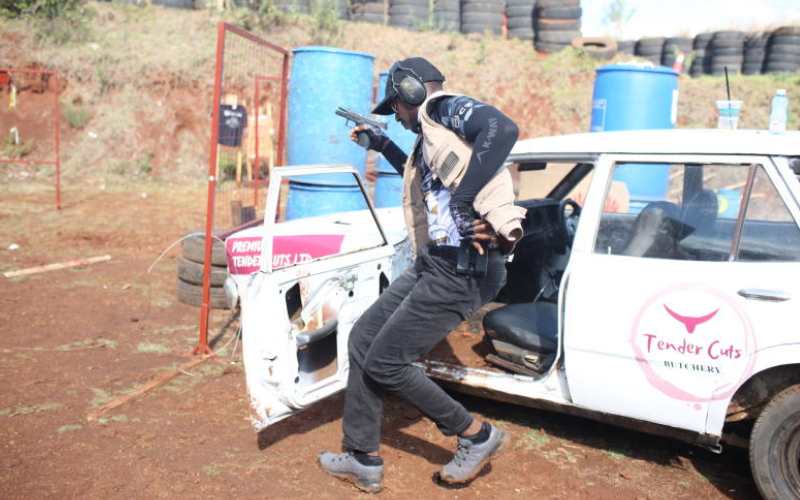 The heavy downpour on Saturday morning did not dampen the action at The IDPA Chairman's Cup 2021, at the Kirigiti Shooting Range.
Ibrahim Ndung'u's electrifying speed and accuracy earned him the overall winner spot, in a tournament that was marked by drizzle, wet slippery ground and a two-hour delay.
Captain Geoffrey Pesa scooped the second position while Eng. Robert Nyamongo, who had just returned from a season's break, finished third.
The match recorded zero DQs (disqualifications), something which the match director Anthony Wahome said was an indicator that people were using their firearms in a proficient way.
Director, Directorate of Criminal Investigations (DCI) George Kinoti - who was to be the chief guest - was represented by deputy director DCI- Joseph Ashimala, who hailed shooting as a good sport.
"Shooting is a good sport for Interaction, entertainment and one that helps release stress. As a career policeman, I fully understand and appreciate this reality,"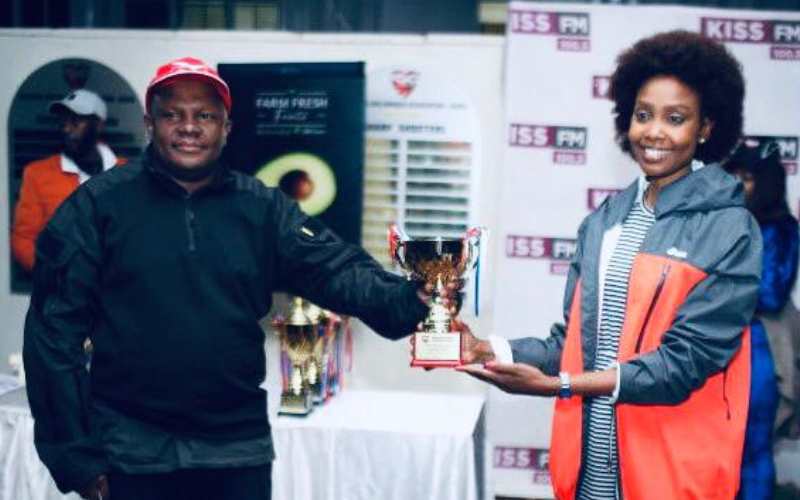 Ashimala asked licensed firearm holders to use their firearms responsibly, and refrain from carrying them to drinking places as that could jeopardize security.
"Firearms if not well handled can cause devastating effects if they find themselves in the wrong hands.
Use them for the right purpose or they will bring you into conflict with the long arm of the law," he said.
According to NGAO-K chairman Martin Chengo, Chairman's Cup was the best attended main event after the African championships in September.
He said that the festivities kick in, they shall only be having the monthly calendar events.
Approximately 100 participants drawn from civilians and licensed firearm holders took part in the event.
In SSP Master category, Ibrahim Ndung'u emerged winner followed by Thomas Kiilu and Daniel Mutiso of Kenya Prisons respectively.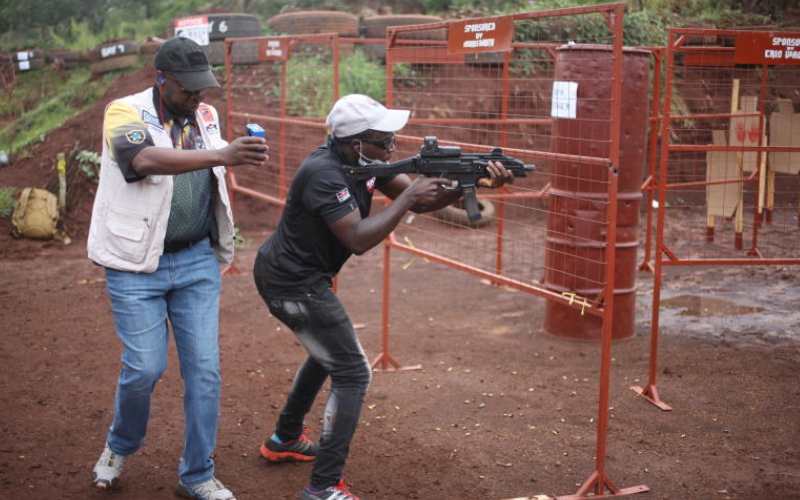 In ESP Master Eng. Robert Nyamongo carried the day followed by Eng Sammy Onyango and Samuel Chacha of GSU respectively.
Geoffrey Pesa lifted the trophy in Pistol Calibre Carbine (PCC) followed by Ibrahim Annous and James Ekale respectively.
The event was sponsored by Africa Air services who facilitated the transportation of all the competition's props, cargo from South Africa.
Other sponsors included Crown Paints Ltd, Skyward express, Farm fresh, Radio Africa Group, Triple Tap Ltd, Capital investment, Spice Ammo, Emotion Regional logistics, Bamburi Rifle Club, Issa Issa and Triple A growers.
Overall top 10 winners Time taken
1. Ibrahim Ndung'u (SSP) 154.97
2. Geofrey Pesa (PCC) 166.89
3. Robert Nyamongo (ESP) 179.49
4 Eng. Sammy Onyango (ESP) 183.96
5. Peter Njoroge (CCP) 193.20
6. Samuel Chacha (ESP) 199.89
7. Annous Ibrahim (PCC) 200.66
8. Mohamed Adan (ESP) 212.84
9. Thomas Kiilu (SSP) 213.03
10. Anthony Kamunyi (ESP) 213.28
Category winners
SSP Master
1. Ibrahim Ndung'u
2. Thomas Kiilu
3. Daniel Mutiso
SSP Sharpshooter
1. Belinda Akoth
2. Stanlus Masha
3.Stephen Kibara
SSP Expert
1. Wilson Kabugi
2. Morris Mureithi
3.James Kariuki
SSP Marksman
1. Peter Nilsen
2. Irene Ndunda
3. Irene Wanjiku
SSP Novice
1. Joseph Kiragu
2. Abdul Kadir Baguss
3. David Silver from Minnesota
ESP Master
1. Eng. Robert Nyamongo
2. Eng. Sammy Onyango
3. Samuel Chacha
ESP Expert
1. Mohammed Adan
2. Anthony Wahome
3. Alex Migwi
ESP Sharpshooter
1. Issa Issa
2. Ahmed Mohamed Noor
3. Nicholas Mijema
ESP Marksman
1. Peter Odindo
2.Philip Kipchumba
3. Kennedy Orwa
ESP Novice
1. Paul Muhia
2. Pauline Munyi
3. Collins Taabu
CCP Expert
1. Mahir Omar
2. Mohammed Omar
CCP Sharpshooter
1. Peter Njoroge
2. Martin Chengo
CCP Marksman
1. Robert Kibutiri
2. Patrick Makau
3.Suleiman Gengo
CCP Novice
1. Kelvin Mbugua
2. Dennis Okodoi
3. Athman Shabram
PCC
1. Geoffery Pesa
2. Ibrahim Annous
3. James Ekale
Youngest shooter
Jonathan Wahome