Kenya Tusker Malt are the Kenya International 10-Goal Championships winners.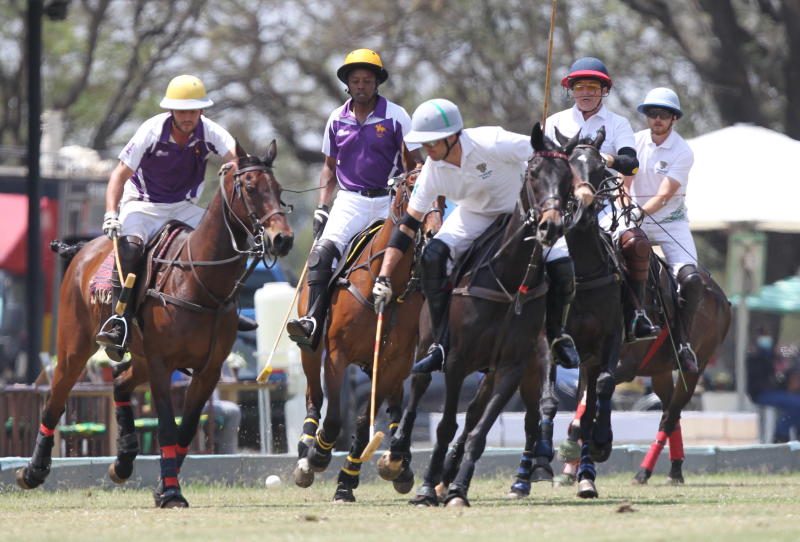 Kenya Tusker Malt team comprising handicap 5 Casimir Gross, Tiva Gross (2.5), Harry Griffiths (1.5) and Jonathan Stichbury (1) achieved the feat by whipping stubborn Kenya Samurai 6.5-4 in an explosive match at Nairobi Polo Club yesterday to finish unbeaten with maximum six points in the round robin series.
They powered their way to the top with a 7-5.5 win over South Africa in their opening match on Friday before picking a 7-4 win over Kenya CMC Motors. Kenya Tusker Malt made sure of the victory by flooring Kenya Samurai in their final match.
Kenya Tusker Malt started at an advantage of half fraction of a goal as Casimir and Stichcbury scored a double with Tiva and Griffiths providing the rest with one of them being a penalty.
Jamie Murray (two), Raphael Nzomo (one) and Wiliam Millar replied for Kenya Samurai.
South Africa Tusker Malt narrowly dismissed Kenya CMC Motors 4.5-4 to finish runners up with four points from three matches.
The South Africans should thank their captain Chris Lund and four-goal hero, who scored the winner with only a few seconds to the final whistle after Archie Voorspuy-led Kenya CMC Motors led in the fourth chukka by Voorspuy's goal.
Voorspuy had earlier scored in the third chukka following Ben Stonewigg and Izzy Parsons' earlier goals in the second and third chukkas.
The South Africans will forever remember aggressive handicap 2.5 Mbu Ngugi, who in all the four chukkas frustrated their efforts before he was injured in the fourth chukka and replaced by Callum Shaw.
Kenya CMC Motors finished third with two points from three matches having beaten Kenya Samurai 6.5-4 with two losses in 7-4 against Kenya Tusker Malt and 4.5-4 against South Africa Tusket Malt.
The Best Playing Pony (BPP) was 13-year old Bunderburg rode by South African captain Chris Lund but nurtured from The Jonathan Stichbury Stables.
In the Fat Hippo Trophy, 24;7 team of Nikki Ngugi(0.5), Georgina Millar(0), Simon Muchene(-1) and Eva Kamau (-1.5) won the title with eight points from five matches.
In their final match yesterday, 24:7 beat Ultimate 9.5-5 having earlier beaten Jacaranda 5-2.
In another match, Ultimate whipped Jacaranda 6-2.5.
Yesterday's results
Kenya Tusker Malt 6.5 Kenya Samurai 4
South Africa Tusker Malt 4.5 Kenya CMC Motors 4
Winners - Kenya Tusker Malt with 6 points from 3 matches.
Runners Up - South Africa Tusker Malt with 4 points from 3 matches.
Play-offs winners: Kenya CMC Motors with 2 points from three matches
The Fat Hippo Trophy
Yesterday's results
24;7 - 5 Jacaranda 2,
24:7 - 9.5 Ultimate 5.
Ultimate 6 Jacaranda 2.5.
FC Talanta land sponsorship deal
Even before kicking the ball as one of the new boys of the Football Kenya Federation Premier League, FC Talanta have signed up a three-year deal with