Shooters set for proper showdown as IDPA Championship begins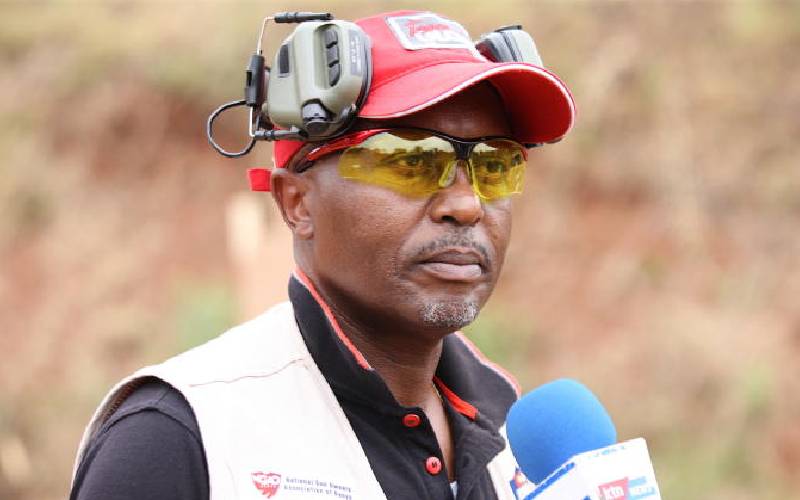 With the International Defensive Pistol Association (IDPA) championships in the country, not everyone is having a smile across their faces.
The National Gun Owners Association (NGAO-K) chairman Martin Chengo has been disqualified from the ongoing African Championship shooting competition.
Chengo's hopes of winning a medal at the IDPA championships were brought to a premature end after his muzzle went beyond the required 180-degree call.
While accepting his fate, Chengo said it is a big blow to him as the host of the African championship for the first time in Kenya.
"We are not compromising on safety. When a muzzle violation was called on stage it earned me a disqualification (DQ) that automatically knocked me out of the championship. My muzzle went beyond the 180 degrees call. Immediately I was stopped and informed by Safety Officers Elizabeth Wachianga (prisons) and International Point of Contact (IPOC) Africa representative for the event Master Ashu Sennick of the violation," he said.
He added, "It is a major blow to me as a person hosting the African champs for the first time in Kenya and this happens to me."
The disqualification however does not affect his role as a Safety Officer for the event. On Saturday and Sunday, he will be officiating the contest at the Kirigiti shooting range.
The Match Director Master Sammy Onyango weighed in on the issue saying he is following up on some disputes that had been lodged. The committee will come up with the final decision on the cases.
"The safety officers have been very strict, we have three disqualifications in SSP Expert and marksman categories. Several people have also been given penalties.
I have some disputes which have already been put up. One of them is a wrong call which we are consulting with the IPOC on what to do. We are following the due process as stipulated in the IDPA rule book.' Said Onyango.
Disqualification means the shooter may not continue in any part of the IDPA match, may not reenter in another division, and may not shoot any side matches. The shooter's score will be reported as DQ in the final tally.
Pricillah Wangui of Kenya Police Service also suffered a DQ fate.
"When I was shooting I broke the 180 rule at COF number 8 (warm ambush). It was a DQ trap (black zone) whereby we had two headshots per target. There were 9 IDPA targets.
In the spirit of sportsmanship, you take responsibility for your action. It was indisputable
I had prepared for this for a long time, then a simple mistake that bares a huge impact cost me the entire championship. It was a learning process for me. I will never break a 180-degree rule again." Said Pricillah.
Disqualifications can be on a finger call, two finger call or if you pass the 180 rule.