Weightlifting: Maurice Aromo wins silver to bring Kenya's medal tally to 14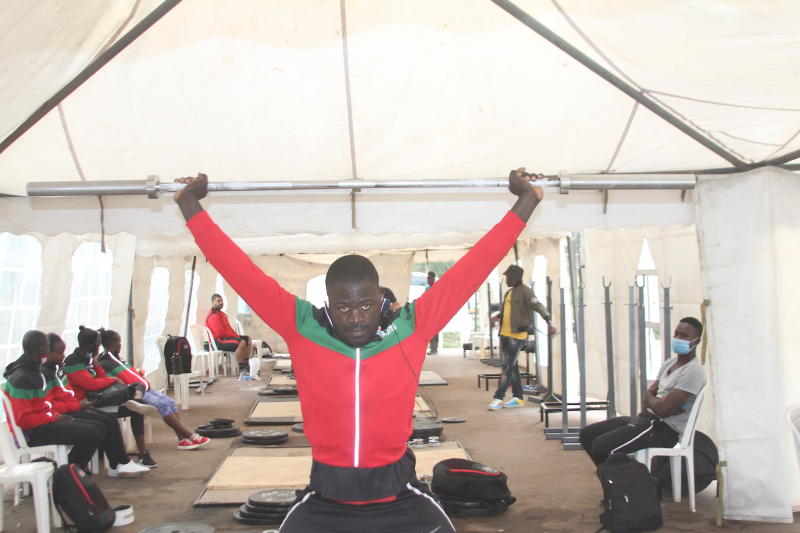 Kenya team captain Maurice Aromo lived up to expectations by winning silver in the men 89kg category at the ongoing Africa Weightlifting Championship cum Tokyo Olympic Qualifier at Ruaraka Sports Club in Nairobi.
He scored 102 points in the Snatch and 132 points in the Clean and Jerk for total 234 points.
Aromo finished second behind 22-year old Algerian gold medallist Touairis Faris who set a new African record in the Snatch.
Faris had a whooping 165kg lift to surpass the previous 164kg mark that has been a hard nut to crack.
In Clean and Jerk, the Algerian recorded 170kg to take his total tally to 335 points that earned him the gold.
"I feel happy to have won the medal, it's my second African prize in the category," Aromo told The Standard Sports.
"I was playing safe because I didn't want any injuries," he said.
Aromo, who is a mechanic by profession, stepped up training for three months ahead of the competition, he is glad that the effort has paid off.
Despite his feat, Aromo, just like any other medalists in the championship, will have to wait until next month to know their Tokyo Olympic fate as there are other similar contests ongoing in Europe and the Americas after which the International Weightlifting Federation (IWF) will harmonise the results.
"I'm optimistic that after the final entry by the IWF I shall be in the Tokyo bound squad," Aromo said.
Aromo's feat now brings Kenya's medal tally to 14 in total including eight bronze and six silvers.
Caroline Wangeci (women 55kg), Winny Langat (women 59kg), Rachael Achieng (women 64kg) and Janet Oduor (women 45kg) are other Kenyan players who have not missed the medal rush.
Aromo says he will rest for two days before embarking on training at the Kitengela Gym as he waits for the Olympics.
His weekly schedule will include Snatch and strength work on Monday, Clean and Jerk and strength on Tuesday.
Wednesday is for power workout while Thursday is his rest day.
He returns to the gym on Friday for some strength and conditioning training while Saturday is for mobility and flexibility workouts.
Aromo won his first silver at the 2018 Africa Championship in Mauritius.
He failed to qualify for the Rio Olympics in Brazil in 2016.
"I was dedicated to learning the sport more.
"It was sheer hard work and consistency in training for seven years that helped me to win the medal in Mauritius," he said.
The medal inspired the father of two who now has great confidence in the discipline.
Aromo strongly believes he will be a continental champion some day.
The 32-year old focused lifter finished fifth overall at the Africa Games in Morocco in 2019.
In the next five years, Aromo dreams to be a continental champion.
Since he started to captain the national team in 2019 in Morocco, Aromo has learnt key lessons in life among them leadership skills.
"I feel great and honoured to be the skipper of Kenya team. I'm constantly reminded to be a responsible citizen."
QUOTE
"I did not play the game as an amateur, i joined the sport as a senior at 21years when I bumped on some weightlifters in the gym at Kitengela." Kenya Team Captain Maurice Aromo.
Kenya medal tally at the Tokyo Olympic Weightlifting Qualifier in Nairobi
1.Maurice Aromo (men 89kg) 3 silvers
2.Caroline Wangeci (women 55kg) 3 bronze
3.Winny Langat (women 59kg) 2 silvers
4.Janet Oduor (women 45kg) 3 silvers
5.Rachael Achieng ( women 64kg) 3 bronze
Total: 6 silvers, 8 bronze