Mombasa shooters aim for glory at Africa championships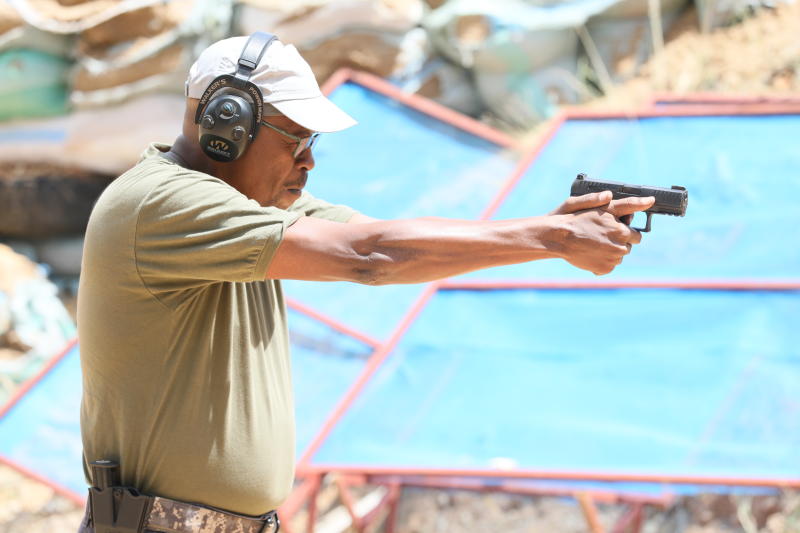 Mombasa shooting team has upped its training sessions ahead of the Africa Shooting championships in September, at the Kirigiti Shooting Range, in Kiambu.
The squad is being handled by international firearm instructor Ibrahim Ndung'u, whose experience is an added advantage to the Bamburi Rifle Shooting Club.
The team looks forward to a splendid performance at the continental event, which Kenya will be hosting for the first time.
International Point of Contact in Africa (IDPA) Vivian Whatley inspected the Kirigiti course in March before giving it a go-ahead to host the event. [Ernest Ndunda]
"We have intensified programmes and we are looking forward to a good show in Kirigiti," said Ndung'u, who started competitive shooting in 2019 before he was bestowed with the Compact Carry Pistol (CCP) Master rank.
Bamburi Rifle Shooting Club chairman and sharp shooter Abdulhakim Daud said Mombasa will be represented by a team of 25 shooters.
Speaking as players received Covid-19 vaccine at the shooting range, Daud said his club has worked closely with the Ministry of Health to ensure shooters and other sportsmen and women were vaccinated.
"I would like to thank the Ministry of Health and Seagas Kenya Limited for supporting Bamburi Rifle Shooting Club in ensuring that athletes and neighbours near the range are vaccinated as recommended by the government," said Daud.
Also vaccinated were Covid-19 Trainers of Trainers (TOT), First Aid Responders, aged persons and security officers.
The vacination exercise was carried out ahead of local events and ease travel to international events scheduled between July and December in various countries including Thailand, South Africa and USA.
Kenya's swimming team to Olympic Games coach Fakry Mansoor led sportsmen and women in receiving the vaccine.
Ndung'u will lead the Mombasa team in Master category with Soi Kilonzo featuring in the expert category.
Daud, Samier Muravvej and Omar Moosa will participate in the sharp-shooter category. Mahamed Ramadan ,who is the club's vice chairman, will feature in the senior category.
Marksman category will have Muzahim Taib who is the team captain, Assam Ali and Moosa Khan. Kenya Basketball Federation (KBF) vice chairman Hilmy Ali, Jackson Kitheka and Sabir Said will be in the novice division.