Kenya Canoe team set to finally travel after failing to board flight to Spain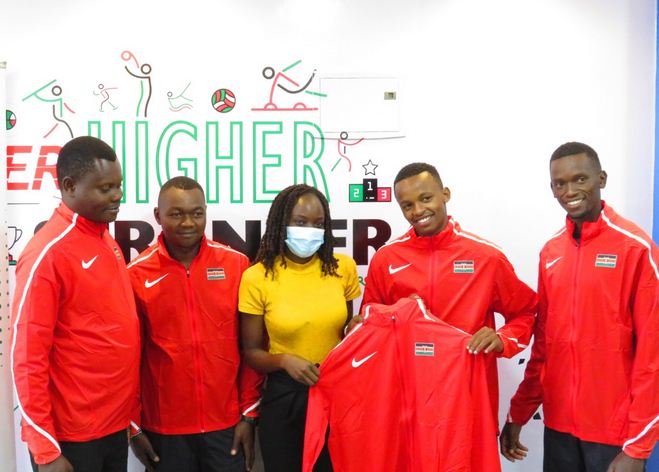 The Kenya Canoe Team will finally travel to Spain today (9th March) for training in preparation for African Slalom Canoe Qualifiers to be held on 20th and 21st March 2021.
The team comprising of youngsters Samwel Muturi, Levis Karanja, Daniel Murithii Chomba, and coach Titus Mukundi was set to travel on Saturday 6th of March but could not board their flight due to the visas issued to them by the Spanish Embassy in Nairobi having limited territorial validity, which means they could not transit through Amsterdam as was their itinerary.
The International Canoe Federation (ICF) and the Kenya Rowing and Canoe Association had organised for a quick visa to get the team to travel as fast as possible (they were earlier scheduled to travel on the 14th of March), and the Spanish Embassy was able to process these in a short period.
The embassy responded in a statement to NOC-K saying that: 'This was done to be able to issue the visa more quickly, given the need for athletes to arrive in Spain before March 8 and thus avoid quarantine.
''When these visas are issued, travellers are advised to travel by stopover outside the Schengen area to avoid problems in transit, since there are Schengen countries, such as the Netherlands, that do not even allow an airport transit with this type of visa.''
Miscommunication between the Embassy and the Federation saw the itinerary not changed, thus the mishap.
Olympics Kenya has been in touch with ICF since then, to try and make alternative plans for the team. Olympics Kenya has been able to get them re-tested for Covid-19 and got the team issued with new tickets to travel tonight.
The Chef-De-Mission Mr. Waithaka Kioni conveyed his full support to the team, 'We want to ensure that all Kenyan teams get a fair chance of qualifying for the Olympics.
Take a quick survey and help us improve our website
Take a survey
We have therefore used our resources to ensure that the canoe team makes it to Spain. The team was already denied a qualifying chance when they went to France last year and had to return without competing at the onset of the pandemic.
The coaches have continuously assured us that they have a great chance to take some of the slots available for Africa, therefore for us at this point is to wish them all the best in this campaign, and we look forward to taking the team to Tokyo in July.'
The Covid-19 protocols remain a challenge but Olympics Kenya and ICF are liaising with the relevant authorities in Spain, to ensure that the team gets all the assistance until they settle at the training base in Seu D'urgell.
Olympics Kenya is grateful to ICF for making these arrangements for the African teams in spite of the difficult circumstances.