Tennis sensation Angela Okutoyi exits Australian Open with head held high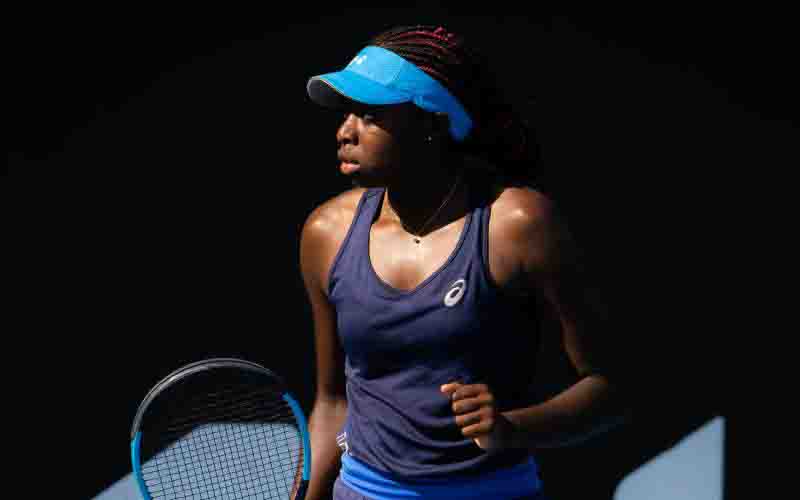 There is hope for Kenyan tennis after African champion Angela Okutoyi rewrote history with her exemplary and inspiring performance at the 2022 Australian Junior Open Championship in Melbourne.
Just a regular young sportswoman from Kenya, Okutoyi did not only make her debut at a major Grand Slam event but also reached new heights in the sport.
Ranked 60th in the latest International Tennis Federation (ITF) Junior rankings announced on January 3, which is her new career-high, Okutoyi ended her Grand Slam debut with a third round finish, narrowly missing out on the quarterfinals.
Okutoyi went down to Serbian Lola Radivojevic after losing straight sets of 6-2, 6-3 during the third round match played at Melbourne Park Arena yesterday.
Despite the loss, the 18-year-old will come back home with her head held high after showing great promise after her success in the first two rounds of the age group competition.
The two-time Africa Junior Champion won her first round match on Sunday beating Italian Federica Urgesi 6-4, 6-7(5), 6-3, to become the first girl from Kenya to win an Australian Open juniors match.
On Tuesday, the Kenyan Open champion made more history when she outclassed Zara Larke in three straight sets of 7-6(7), 7-5,6-1 to qualify for the third round.
She became the first Kenyan to go past the second round at a Grand Slam tournament.
Okutoyi's presence in Melbourne marked Kenya's appearance at the Grand Slam tourney after a 16 years absence.
The last Kenyan to feature was Christian Vitulli who competed at the 2006 Australian Open Juniors when he lost in the first round of the main draw against New Zealand's Austen Childs.

Paul Wekesa played at the Australian Open from 1989 to 1994. His best performance was reaching the second round in 1989 when he lost against Austrian Thomas Muster.
Tennis Kenya (TK) Secretary General Wanjiru Karani said the federation is proud of Okutoyi's performances who has raised the level of tennis in country.
"Angela is a product of the JTI program since 4yrs old, TK National teams that enabled her to be discovered for the ITF high performance center that has natured her since she was 10 years old," said Karani.
"Her performance has inspired many Kenyans. It has inspired a lot of JTI players to keep working as they now have seen a snapshot of what it looks like to start at JTI and end up at the Grand Slam."
Continued Karani: "She has truly energised and galvanised Kenyan tennis legends back to the game, inspiring conversations on how they can give back to the game.
"We know it will inspire participation in the game It will raise the level of tennis in Kenya because the bar has been set high by Angela."