Australian Open Grand Slam: Okutoyi warm-up for Melbourn event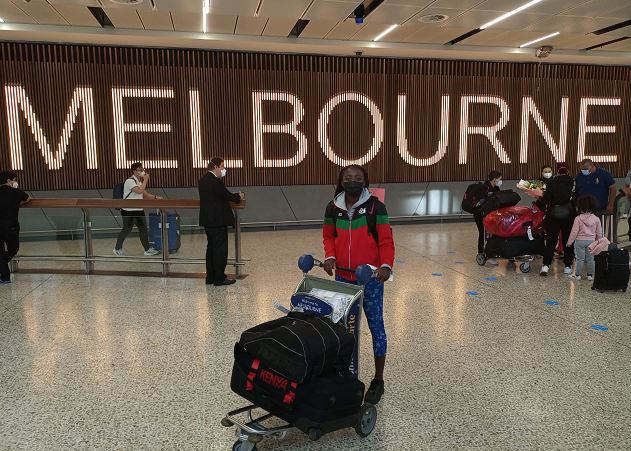 As the Australian Open Grand Slam Tournament draws near, the 2021 Africa Junior Champion Angella Okutoyi has set her eyes on the big prize.
Okutoyi will face Yan Yin of Australia in the J1 Traralgon Junior international tennis tournament in Melbourne, Australia today.
Okutoyi, who is using the tournament as a warm-up for the Junior Australian Open tournament which kicks off in a week's time, is upbeat and focused on the event.
"It's been a dream come true to play in a grand slam tournament of this nature and so I am very excited," said Okutoyi.
Okutoyi jetted out of the country on January 10th to compete in the junior category promising fireworks at the prestigious event.
The 18-year-old Angela Okutoyi is set to make history as the first Kenyan to compete in the Australian Open.
The Australian Open is a scheduled Grand Slam held annually in Melbourne, Australia.
Okutoyi will be participating in the Australian Open Women's Junior competition.
The promising tennis player hopes to improve her international Tennis Federation Junior ranking of 60th which she gained on 3rd January 2022 during the tournament. She revealed that she targets to advance to the quarter finals stage of the tournament.
Okutoyi booked her spot at the tournament after winning the Africa Junior Tennis Championship (18 and Under) in November 2021.
In September 2018, she became a sports sensation after winning the Britam Kenya Open Tennis Championship (Women), upsetting three-time former champion Shufaa Changawa 6-1, 7-6 at Nairobi Club.
This would see her become the youngest player to achieve such a feat at the age of 14 years.
Okutoyi developed a love for tennis at the age of four. In 2014, she joined the ITF East Africa Regional Training Centre in Burundi aged 10 on a tennis sponsored scholarship.
She made her international debut the same year at the East Africa Zonal Championships.
After training with Phillip Ilako's residence, a Kenyan former Tennis star, top-seeded in 1984 and 2017 Kenya Davies Captain, she is optimistic of posting good results.
"I have been training on the hard courts more because that is the surface we will use in Australia I've realized that, the level I am in doesn't allow my mindset to think like a junior, I play with parents, experienced players and that means I have to put double the effort for my hard work to bear fruits. I'm aiming for a top 30 bracket and I believe I'll achieve it," said Angela.
Okutoyi is among 46 players enlisted for the main draw in the girls' category. ?