Former Wimbledon champion Ivanisevic tests positive for COVID-19
TENNIS By Xinhua | June 26th 2020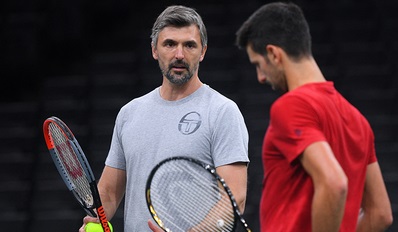 Former Wimbledon champion and Novak Djokovic's coach Goran Ivanisevic announced on Friday that he has tested positive for COVID-19.
"Unfortunately, after two negative tests in the last 10 days, I have just found out that I tested positive for COVID-19. I feel well and don't have any symptoms. I would like to inform everyone who has been in contact with me that I tested positive and ask them to take extra good care of themselves and their loved ones. I will continue to self-isolate as I have been doing already. I wish everyone who got infected a speedy recovery," Ivanisevic wrote on his Instagram page.
Ivanisevic attended last weekend's Adria Tour in Croatia's coastal city Zadar. The tennis tournament was canceled before its final match after several players and team members tested positive for COVID-19, including Djokovic, Grigor Dimitrov, and Borna Coric.
Men's world No. 1 Djokovic initiated the tournament to promote sports and raise funds for those in need, although the ATP remains suspended because of the COVID-19 pandemic.
Croatia has been recording double-digit numbers of new COVID-19 cases since last week. The country's Prime Minister Andrej Plenkovic also attended the tournament and had close contact with Djokovic and Ivanisevic. He tested negative on Monday, and refused to self-isolate, claiming that his contact with the players was very short.