Wandera crushes Theuri to claim top spot in National Table Tennis Trials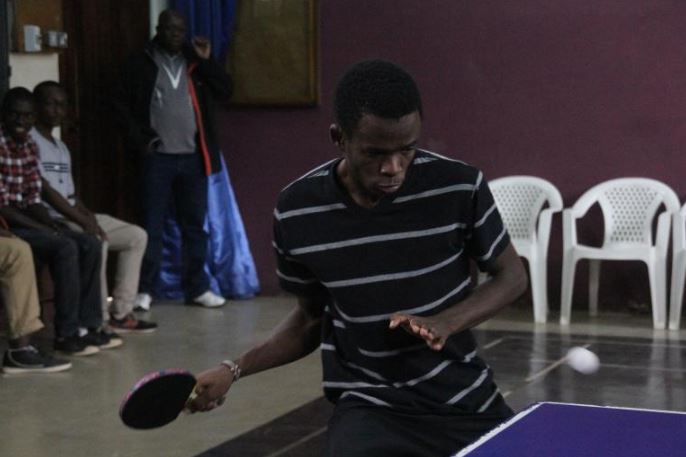 Top seed Josiah Wandera crushed seed number Two Peter Theuri 3 - 1 (5-11, 11-4, 11-4, 11-9) to claim the Kenya number One slot amongst the men with an unbeaten record during the just concluded National Table Tennis Trials for the 2019 All Africa Games in Morocco later in August.
The National trials, held at the Kasarani Stadium at the weekend also saw Edith Wangari fall short of two scores by claiming the second slot from the former runners up Lydia Setey who emerged the top seed in this year's trials.
Setey won 3-2 (11-7, 7-11, 9-11, 11-5, 11-9) against Edith relegating her (Edith) to the second spot, a win that also secured her a position in the National Team.
Kenya Table Tennis Association (KTTA) Fixture Secretary Michael Kuria said after the event "It is encouraging to see the improved levels of players and a higher level of competition during this year's trials and we are hopeful for better results during the years All Africa Games in Morocco.
Brian Mutua's training in Denmark as from next month under the Olympic Solidarity Program is also expected to be a boost to our team ahead of this game's."
Brian Mutua (Wild Card), Josiah Wanders (Men Position 1), Kennedy Koja (Men position 2) and Zaki Pema (Junior position 1) have secured their slots in the National Team to the All Africa games with the association yet to decide on the fifth slot which is a wild card to either junior or senior players.
Kenya's longtime undisputed Champion Sejal Thakkar did not take part in this year's trials with Doreen Juma taking over the mantle of Kenya's female top seed.
Doreen Juma (ladies position 1), Lydia Setey (Kenya position 2) and Pamela Glory (junior position 1) have secured also secured their slots for the Kenya National Team to the All Africa Games with the association expected to announce its decision on the two remaining wild card slots either to junior or senior players.
Current Kenya National Team in order of ranking is now composed of:
Men
1. Brian Mutua (Wild Card and previous trials top player)
1. Josiah Wandera (Western Branch)
2. Kennedy Kojal (North Rift Branch)
3. Alikhan Kazia (Nairobi Branch)
4. Peter Theuri (Nairobi Branch)
5. John Ojiambo (Central Branch)
6. Jensen Owade (Nyanza Brand)
7. Edwin Otieno (North Rift Branch)
8. Christopher Kyalo (Western Branch)
Ladies
1. Doreen Juma (Western Branch)
2. Lydia Setey (North Rift Branch)
3. Edith Theuri (Eastern Branch)
4. Audrey Oronda (Western Branch)
5. Nelly Mutuma (Nairobi Branch)
6. Bahati Rufina (Eastern Branch)
7. Rebecca Njeri (Nairobi Branch)
8. Victoria Njer (Eastern Branch)