Loreto Convent student lifts under-18 category lawn title
TENNIS By - | January 4th 2013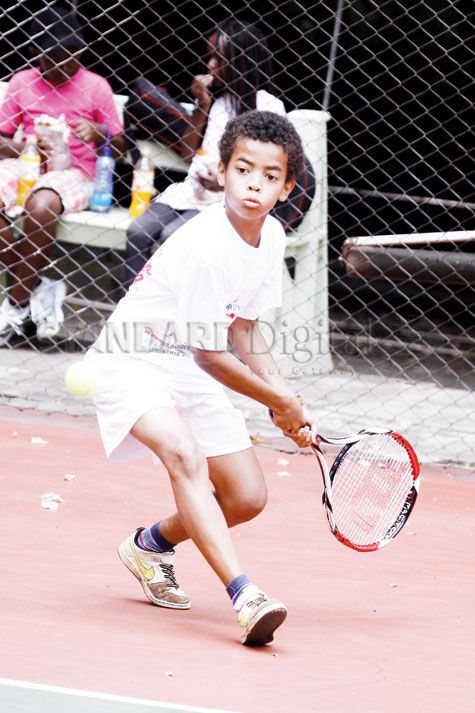 Shandeep Jaiswal returns a shot from Albert Njogu in the boys' singles under-12 category in the Coca cola JD Hardcourt Junior Tennis Championship. [PHOTO: MARTIN MUKANGU/STANDARD]
By Oscar Pilipili
Stephanie Mbaya of Loreto Convent Valley Road became the first player to claim a lawn tennis title after she topped girls' under-18 category in the Coca Cola JD Hardcourt Junior Championship.
Mbaya won all her two matches in the category that was played on round robin to be assured of the trophy during ongoing tournament at JD Tennis Academy in Nairobi on Thursday.
She beat Achu Madhieu in straight sets of 6-3, 6-3 and went ahead to defeat Judith Nkatha 6-2, 6-1 in the category that attracted three players.
Mbaya would, however, wait until the final day of the competition on Sunday to be officially crowned champion.
In boys' under-18 category, top seed Kevin Cheruiyot and second seed Eric Kipkoech got byes to the second round.
Play-offs
Cheruiyot plays winner of round one match between Rodgers Kamarachi while Kipkoech is drawn against winner of the match pitting sixth seed Martin Luveka and Patrick Ochieng.
Other regular players appearing in the under-18 draw include third seed Randall Randiek, fourth seed Petty Andanda and eighth seed Isaya Etale.
Cheruiyot who is also top seed in boys' under-16 showed his intention of advancing in the category after he won his round one match by beating Martin Luveka 6-1, 6-0 to reach quarter-finals.
Second seed Randiel also advanced following 6-1, 6-1 victory against Ochieng to reach the quarter-finals of the tournament which is the first event in the Kenya Lawn Tennis Association calendar.
Byes given
Top seed Madhieu and second seed Nkatha advanced to the semi-finals without hitting a ball after they were given byes in girls' under-16.
Madhie play winner of match between Mercy Wangui and Faith Nyabera while Nkatha's opponent would emerge from contest pitting Tonia Kubai and Jaini Shah.
The in-form Kubai is assured of winner's trophy in girls' under-14 after she won all her three fixtures.
She beat Nyabera 4-0, 4-2 and defeated Mercy Wangui 4-0, 4-1 and Mwende Nzioka 4-1, 4-0.
Nyabera recovered to beat Nzioki 4-2, 4-2 to remain in contention for second position.
In girls' under-12, Prisha Shah beat Yishika Wadhwa 5-3, 2-4, 10-6 in a three setter thriller that lasted over one hour.
Wadhwa had early beaten Natasha Ndichu by 4-0, 4-0 in her first match in the category which is very competitive.
Beatrice Shako beat Ndichu 5-3, 4-5(1), 12-10 before falling 1-4, 1-4 against Bianca Oyoo.
In girls' under-10, second seed Jeevna Heer beat Makena Murungi 4-0, 4-0; Radha Raja overcame Wambui Murungi 4-0, 4-0 while Prisha Shah outclassed Domitila Nafuna 4-0, 4-0 in round one matches.
In boys' under-10, second seed Pranay Kantaria beat Niev Gadhia 6-7, 6-3, 10-5 while Rahul Shah recorded advanced after Shandeep Jaiswal